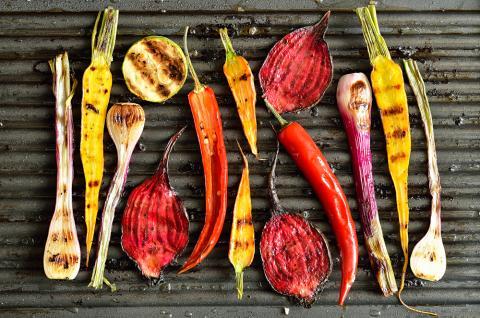 Those long, warm summer nights are dwindling.  The sun is setting earlier in the evening; there's a welcome coolness to the morning air.  But before you swap out all your summer recipes for pumpkin-spiced everything, there's one last summer chore you should take care of: cleaning the grill.
The grill is the perfect summer workhorse, waiting outside for us faithfully until we unearth it each spring.  Just the sight of it evokes the smell of charcoal and roasted veggies.  Before you put it away and forget about it for a few months, give it one last good scrubbing—you'll be so glad you did come spring.
The problem with grill cleaning is that, just like with oven cleaners, most commercial grill cleaners are full of toxic ingredients that you probably don't want touching something you put your food directly on, right?  Fear not!  There are plenty of eco-friendly cleaning tricks that will keep your grill sparkling and your family and friends healthy—with nary a toxic chemical in sight!
Just why are those traditional grill cleaners so bad for you?  The ingredients they use are no joke: think sodium hydroxide, ethanolamine, sodium metasilicate, 2-Butoxyethanol—those little guys can irritate skin, cause respiratory problems, damage organs, disrupt the nervous system, cause cancer, and more.  Other common ingredients include butane and propane, which can do nasty things to your blood pressure, your heart, and your memory.
Let's keep all those things far away from our food and out of our bodies.
How to Clean Your Grill
1. If there is a heavy amount of burned food on the grates, heat up the grill and once warm, scrape off as much of the burnt food as possible with a grill brush or wadded up foil. (If you do this after every time you grill, it will stay much cleaner in the long run.) 
2. Remove the grill rack to clean it.  Make a paste out of baking soda and dish soap and rub it on the rack.  Let it set for 15-20 minutes before scrubbing with a brush or steel wool scrubber.  Rinse it off (the bathtub is a good place for this!).  You might also try a tablespoon each of baking soda and vinegar added to a half-liter of warm water for a mix that you can spray.
3. Remove any food pieces and ashes (if using a charcoal grill) from the bowl or drip pan of the grill before replacing the grate.
4. Clean the outside of the grill with a mix of warm water and dish soap; just wipe it down and avoid scrubby metal sponges that might scratch the pain.
For Extra Dirty Grills
For a really stubborn dirty grill, try a more intense solution and let it sit for longer.  But first, try burning off as much old food as possible by letting your grill burn at high heat for awhile.  Warning: it will get smoky!  Then apply a heavy-duty cleaning solution.  We recommend a combination of 1/2 cup liquid soap, 1/4 cup white vinegar, and 1.5 cups baking soda. Mix it together, slather on the grates, and let it be for 8-12 hours.  You can also try a soupier mix (alter the vinegar/soap amounts as needed) and submerge the grill grate in it (use a bathtub or garbage bag) for 12-24 hours and see if you can get away with using less elbow grease.
More Grill Cleaning Tricks & Tips
There are many more earthy-friendly and all-natural ways to keep your grill in tip-top working order.  Here are a few suggestions.
1. If your grill is prone to rust, swipe some olive or avocado oil over it after each use.
2. Next time you want to grill without getting that smoky smell in your clothes, try keeping a vinegar-soaked sponge near the grill.  White vinegar absorbs odors and will help keep some of the smoke-aroma out of your attire.  If it's too late and your clothes are reeking, try spraying them with a combination of white vinegar and water to freshen them up a bit (add a few drops of essential oils if you can't tolerate the vinegar-scent).
3. Got some leftover coffee?  Or deciding to quit coffee and got extra laying around you don't want to drink? Soak a grill grate or your grilling utensils in a sink full of coffee for an hour or so and let the acid in that coffee do its work!  You should be able to scrub food off easily.
4. Skewer half of an onion on some prongs or such, and rub the cut side all over the hot grate of a grill.  It will "scrub" the food off if the mess isn't too built up.