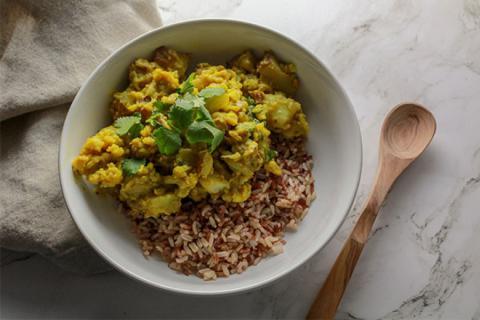 Winter is a time of increased introspection. Now that the holiday season is over, it's a great time to explore what your body needs and develop new self-care practices that will set the tone for the rest of the year. Meatless Monday is a movement that will support you in creating and maintaining healthy eating routines. In today's post, I'm going to share a little about Meatless Monday and give you an easy, delicious cauliflower potato coconut curry recipe to get you started—or keep you excited—on your healthy eating journey.  
What Is Meatless Monday?
Meatless Monday is a global movement which encourages people to cut meat from their diets one day of the week. The idea is that each Monday provides a fresh start to begin healthy new behaviors, get back on track with good habits, or, if you're already committed to a healthy lifestyle, it can be a day where you bask in the energy of being part of a global community that's actively working to better their health and the planet's. Since its current inception in 2003, Meatless Monday now stretches across more than 40 countries. Part of the reason for Meatless Monday's popularity is that its message is simple and non-dogmatic. Another reason is that Meatless Monday is a community; and we all know we're more likely to be successful in reaching our goals when we work with others to achieve them.
Why Go Meatless On Monday?
You'll find many compelling scientific reasons to eat more plants on the Meatless Monday website. The Meatless Monday organization is partnered with Johns Hopkins Center for a Livable Future, a group of academics and scientists who explore the intersection between diet, climate, and health. According to their research, eating more plants instead of meat can help you maintain a healthy weight. And while many Americans are concerned about getting enough protein, we would actually do well with less—most of us eat one-and-a-half times more protein than we need each day. At the same time, producing a single quarter-pound burger uses enough water to fill ten bathtubs, and the amount of energy that would power an iPhone for six months. On a macro level, global livestock production creates more greenhouse gas than the entire transportation sector. But perhaps the most compelling reason of all to eat more plants is simply because they taste good. Whether your thing is fiddlehead ferns in the spring (one of the few things I miss living in California), summer peaches, or fall pumpkins, there's something for each of us to love, and all it takes is a little bit of kitchen know-how to create delicious plant-based food.
While diets and even researched-based conclusions about what we should eat always seem to change over time, two things are clear: whether for our health, animal welfare, or the health of the planet, the current commercial meat production industry is in need of drastic change. And, while no one diet will work for everyone, many of us in the industrialized world could benefit from eating more whole, unprocessed, organic plants. As a people, we have evolved—until very recently—eating real food that was free of pesticides and additives. The growing amount of people joining the Meatless Monday movement shows that we're collectively becoming more mindful of what we put on our plates. In that sense, going meatless on Monday means taking a small step toward a world that's better for people, animals, and the planet, so why not say yes? And with that, let's get cooking that delicious cauliflower potato coconut curry I promised you.
Cauliflower  Potato Coconut Curry (Vegan, Gluten-Free)
Serves: 3-4
Prep Time: 10 minutes
Cook Time: 25 minutes
Total Time: 35 minutes
Ingredients
4 Tablespoons coconut oil (or ghee)
1/2 teaspoon mustard seeds
1 teaspoon cumin seeds
2 teaspoons curry powder
1/4 teaspoon ground turmeric
1 teaspoon minced ginger
1 teaspoon minced garlic
1 small cauliflower (about 12 ounces), chopped into 1 inch florets
1 pound waxy potatoes (red or yellow), cut into 1 inch chunks
1/2 teaspoon sea or Himalayan salt, divided in half
1 cup full fat coconut milk
fresh chopped cilantro, to taste 
Directions 
In a large frying pan, heat the ghee or coconut oil over moderate heat.
Add the mustard and cumin seeds and stir, following by the curry, turmeric, ginger, and garlic. Cook until just fragrant.
Add the cauliflower and potatoes and cook, stirring frequently, until the vegetables begin to soften, about 5 minutes.
Add the coconut milk and half of the salt (1/4 teaspoon), and stir. Bring to a simmer, reduce the heat to low, cover the pan, and cook for about 15 minutes, until the vegetables are tender. Taste and adjust the seasoning, adding the remaining salt if desired. Plate, garnish with chopped cilantro, and serve with rice. 
Additional Cooking Notes
I don't peel potatoes unless I really have to because the peel is nutritious and leaving it on saves time. However, if you don't like the peel, it's fine to remove it in this recipe.
This fragrant, deeply flavored cauliflower potato coconut curry makes a satisfying meal in and of itself—on Meatless Monday or anytime—but it can also be served as a (substantial) side dish. 
Photos by Shiraz Leyva