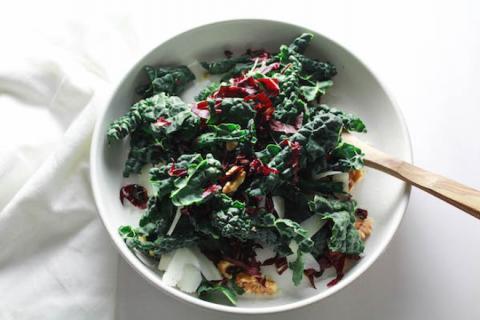 With spring just around the corner, it's time to think about shifting your diet in the direction of lighter foods. Everyone should have more than a few salads in their cooking repertoire, and now is a great time to experiment with hearty versions, like today's recipe, made of kale, radicchio, walnuts, cranberries, and Parmesan. This salad is glorious on texture and flavor, and since you mix the dressing right into the bowl, it's lightning-quick to put together. In other words, this salad is a great weeknight dinner starter.
Seasonal Eating 101 
Seasonal eating puts us in touch with the cycles of nature. Recent studies have shown that eating food in season supports a healthy microbiome, but our deep connection to nature's seasonal cycles is age old. In the ancient system of Ayurveda, it's long been believed that seasonal characteristics—cold, dry, wet, windy, hot, etc.—show up, and potentially accumulate, in our bodies. Ayurveda is a highly individualized approach to health, but generally speaking, in order to create balance in the body, it's suggested that you bring in the opposite qualities of the season through diet and lifestyle.  
The Spring Transition: What's On Your Plate
The transition to spring is a movement from cold and dry to warm and wet. As winter turns into spring, gradually replace oily, heavy, warm foods with lighter, drier foods. For example, eat fewer hearty stews and less heavy dairy; introduce lighter soups, rice, and steamed vegetables.
In early spring, cold, raw foods should be added with extra attention. If it's very cold where you are, or if your digestion is compromised, it's too early to add raw salad into your diet. On the other hand, if your body is healthy and maintaining a comfortable temperature with ease, having today's salad before a warm meal is a very good idea. Because it's quick, it's delicious, and it will make dinner much more interesting, this salad is likely to become a go-to recipe, which will ultimately amount to more nutritious, feel-good food on your plate.
Nature's Right On Time
A great deal of spring foods, including many bitter roots and greens, are cleansing to the body. Nature offers these to us just at the right time. The body requires extra nutrition and insulation during the cold months, when it has to work harder to stay warm. As temperatures rise, less work is required of the body, and our metabolism begins to slow slightly. The weight that many of us gain during the winter is a perfectly normal part of our seasonal circadian rhythms. Come spring, as our metabolism slows, nature gives us cleansing foods which will support us in shedding the weight that we've accumulated during the preceding months.  
Making A Great Kale Salad
In today's salad, sweet cranberries and salty Parmesan counterbalance the earthy, bitter flavors of kale and radicchio. I like to use Lacinato kale, also known as Tuscan kale or cavolo nero, in this recipe, which is less bitter than curly kale. Still, kale's rugged qualities can go over the top if you happen to get a bunch of tough leaves. While many people appreciate bitter flavors, most of us don't like a texture akin to cardboard in our mouths, right? I have a solution for any obstinate kale you might encounter: allow the dressing to sit on the leaves for 10-15 minutes. Tough, fibrous leaves are no fun on the palate, and, depending on the state of your health, they might be even more troublesome to the lining of your stomach. But even if your stomach is in good shape, adding a little freshly cracked black pepper, which is pungent and warm, will aid digestion. If you have some food-grade black pepper essential oil on hand, you can add a toothpick drop to the dressing in lieu of the dry spice. In that case, I would mix the dressing on the side.
Eating seasonally is not about rigid rules, but about guidelines and ultimately, observation, both of your environment and your own body. Where ever you happen to find yourself in the world, get outside, look around, and by all means, feel. Receiving what nature and your body is offering you is key to health, and it's also a path to a deep wisdom which is available to each and every one of us, right where we are, right now.
Kale & Radicchio Salad With Walnuts & Cranberries
(Vegetarian, Gluten-Free, Vegan Option)
Serves: 4
Prep time: 10 minutes
Maceration time: 15 minutes
Total Time: 25 minutes
Ingredients
5 cups washed, stemmed, torn, or chopped Lacinato kale
2 cups washed, thinly cut radicchio
2 scallions, trimmed & thinly sliced
2 Tablespoons apple cider vinegar
5 Tablespoons extra virgin olive oil
1/4 cup walnuts, chopped & toasted (see cooking notes below)
1/4 cup dried cranberries
sea or pink Himalayan salt, to taste
freshly ground black pepper, to taste
1/4 cup Parmesan, shaved with a vegetable peeler (omit to make vegan)
Directions
Combine the kale, radicchio, scallions, apple cider vinegar, and olive oil in a large bowl. Mix well and allow to sit for 10-15 minutes.
Add the walnuts and cranberries, season with salt and pepper, and toss. Sprinkle with shaved Parmesan and serve. 
Additional Cooking Notes
To toast the walnuts, preheat the oven to 350 degrees Fahrenheit. Arrange the chopped walnuts in a single layer on a baking sheet. Bake for 6-8 minutes and allow to cool before adding to the kale salad. 
Photos by Shiraz Leyva