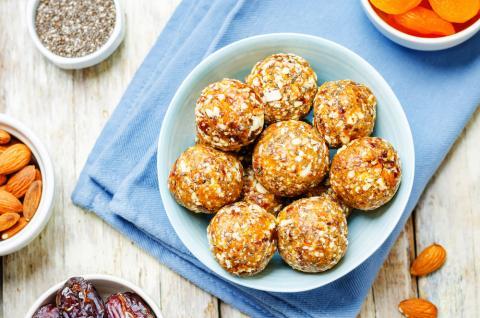 Whether you are taking a long trip and you want to pack some healthy snacks for the road, need a pick-me-up during your work day, or want some compact energy during a hike, energy balls are a fantastic option. Some energy balls recipes are packed full of awesome ingredients, like these Ayurvedic oja balls, which are a great option if you have the time to make them. If you are looking for some simplified recipes, I have suggested a few here. All you need is a bowl, your hands, and a food processor.
Milk & Honey Nut Butter Balls
Milk and honey balls were a staple of my childhood. We used conventional peanut butter and powdered dry milk, harkening back to my grandmother's midwestern, Depression-era upbringing. I still love these peanut butter balls, but I suggest updating them to use whatever kind of nut butter you prefer. I actually love to make these with sunbutter (aka sunflower seed butter) as well. You can easily find organic milk powder, or coconut milk powder if you are following a vegan diet. Replace the honey with some agave or maple syrup to make this vegan.
Ingredients
1 cup nut butter of choice
1/2 cup honey, agave, or maple syrup
1 cup powdered milk of choice (e.g., cow's milk or coconut milk)
1 teaspoon turmeric
Directions
Place the nut butter and honey in a bowl and stir until combined evenly.
Add the milk powder and turmeric and gently mix until an even paste has formed.
Use your hands to form balls to your preferred size.
Place in the refrigerator until ready to eat.
Apricot Ambrosia Balls
If you are looking for a fruity energy ball, this is the one for you. Soaking the apricots in orange juice softens them and makes them easier to mold into a paste. It also adds some sugar, which will balance out the slight bitterness of flax. The flaxseeds can also be replaced with chia seeds if you prefer. Both seeds are high in vitamins and antioxidants and have a sticky membrane around them that helps keep these balls together.
Ingredients
1 cup chopped apricots
1/2 cup orange juice
1/2 cup sliced almonds
2 Tablespoons raisins
1 Tablespoon flaxseeds (or chia seeds)
Directions
Soak the chopped apricots in the orange juice for about an hour.
Place all the ingredients in a food processor. Process until a paste is formed—this may take awhile. You can stop and test the paste as you process it to check how well it's forming. You don't want to process the paste too much.  A few chunks are nice to have!
Use your hands to form balls of your preferred size.
Place the balls flat on a plate and refrigerate so they can set up.
Cacao Power Balls
Cacao is a power-packed superfood that even contains a bit of caffeine, so these are particularly great to have before a morning workout, a day hike, or when you need a little pick-me-up in the afternoon. A great alternative to cocoa powder if you want to avoid caffeine is to use carob powder instead. Carob is another bean that has a dark taste similar to that of cocoa but much less fat and no caffeine. The main hero of this recipe is the dates, however, which are packed with energy and sweetness. The pumpkin seeds can easily be replaced with a seed of your preference such as sunflower seeds, or even slices of almonds.
Ingredients
1 cup dates, soaked in water for an hour then drained
1/3 cup cocoa powder
1/2 cup pumpkin seeds
1 cup almond meal
1/4 cup coconut oil
Directions
Place all ingredients in a food processor and process until a paste is formed.
Use your hands to mold the paste into balls.
Place the balls on a plate and refrigerate for an hour before eating.
Energy balls are also a great way to sneak in extra healing spices and superfoods such as turmeric or even spirulina. Any of these energy balls can be rolled in flax meal, shredded coconut, cocoa, cinnamon, or any other dried topping you prefer. Don't be afraid to modify, add to, and experiment with these basic recipes to make your own superfoods. Any of these recipes can be modified according to what you want to do, so get creative and have fun!
What's your favorite combination? Tell us in the comments below!