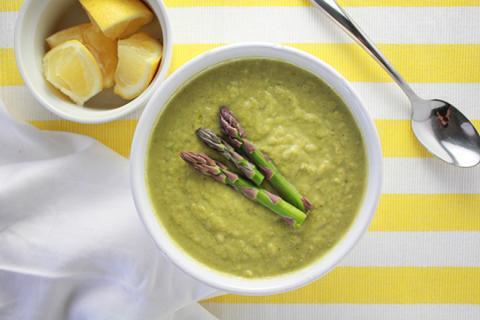 Have you seen all the gorgeous asparagus at the market recently? Asparagus has a short season, so now is the time to enjoy it thoroughly. There are of course so many ways to do that, but one of the easiest is to purée it into a creamy soup. On this Meatless Monday, I'm sharing how to make a vegan version of asparagus leek soup that's great for spring meal planning, and spring traipsing, too.
Soup: An All Year Round Food
Soup tends to be easy for the body to digest, a concept which holds great appeal for many of us. Depending on the climate where you live, soup might be an all year round food. For example, living in Los Angeles, I usually cycle through different types of soups throughout the year. In the winter, I eat warm, hearty soups; in spring, warm legume and vegetable soups; and in the summer I switch to cool soups. However, if it's very wet where you live, or if you feel like your body is retaining excess water, skip the soup. In the dry winter and hot summer it makes sense to look to foods which provide the body with extra moisture, but if you're experiencing a very wet spring, consider opting for drier foods. During times when the earth—and by extension, our bodies—are holding onto excess moisture, eating soup might be like overwatering. In all cases, it's always best to observe, listen closely, and eat accordingly. Your body will thank you for it.
Asparagus, Of The Vegetable Kingdom
Seasonality is about so much more than what's available at the market, and things become very interesting when you consider the bioenergetics of seasonal food. After a winter of fortifying, heavy, grounding foods like beets, nuts, and bananas, spring arrives with its abundance of bitter, astringent vegetables—think leafy greens and roots—which detoxify the body. Now that the weather is warming, its time to move some of the heavier energy which served us during the cold, dry fall/winter. Asparagus, with a profile that's bitter, sweet, astringent, and cool, fits well amongst its spring relatives. It's highly alkaline, rich in chlorophyll, and believed to cleanse the blood and strengthen the kidneys.
Love For Asparagus Leek Soup
Spring is a period of renewal. The increased energy effects everyone: plants, insects, animals, and of course, humans. During this time, many of us understandably want to spend more time outdoors shaking off the energy of winter and discovering what's new and green in the world. Mild spring days are perfect for simple, warm, blended soups. They don't require much preparation or cooking, store well in the refrigerator, and can easily be taken on-the-go. And for those of us who love traipsing around on sunny spring days but who dislike having to select from less-than-optimal food choices, a little thermos of homemade asparagus leek soup can taste like a gift from the (green) Gods, which, of course, it is.
Creamy Vegan Asparagus Leek Soup
(Vegan, Gluten-Free)
Serves: 6-8
Prep Time: 15 minutes
Cook Time: 30 minutes
Total Time: 45 minutes
Ingredients
2 Tablespoons virgin coconut oil
2 leeks, white and light green parts only, washed and chopped
3 Tablespoons finely chopped ginger
3/4 teaspoon lemon zest
3 pounds asparagus, washed, tough ends removed, and cut into 1-inch pieces
1/2 teaspoon sea or pink Himalayan salt
1/2 teaspoon freshly ground black pepper
4 cups vegetable stock or water
1-1/2 cups full fat coconut milk
lemon wedges (for serving)
Directions 
In a large saucepan, heat the coconut oil over medium-high heat.
Add the leek, ginger, and lemon zest to the pan. Cook for about 10 minutes, stirring often, until the leeks are soft.
Add the asparagus, salt, and pepper, and gently sauté for about 5 minutes, stirring frequently, until the asparagus is bright green.
Add the vegetable stock or water and coconut milk to the pan. Bring to a boil, then immediately lower the heat, cover, and gently simmer for about 15 minutes, until the asparagus is tender.  If desired, remove and reserve several asparagus tips for garnish.
Transfer the asparagus mixture to a blender or use an immersion blender to puree the soup until smooth.
Plate the soup, garnishing each portion with asparagus tips, if using, and serve with lemon wedges on the side. 
Additional Cooking Notes
Consider serving vegan asparagus leek soup with crusty bread on the side.
For non-vegans, try serving this asparagus leek soup with eggs (hard-, medium-, or soft-boiled).
Photos by Shiraz Leyva