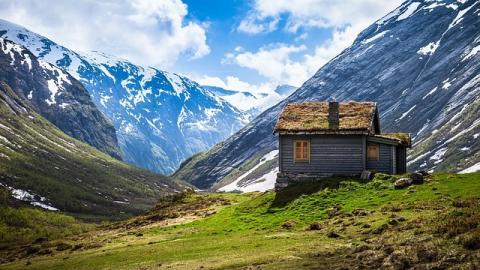 It was in the summer of 2012 that my little family and I decided to unplug from the world as we knew it and return to the wild. We did extensive research over the years before taking the plunge. I gave up my job, house, many belongings and my purpose as I knew it. We found a place in Arkansas where there was an old round house in the middle of the woods. It was an adventure and a learning experience that brought me back to nature; an experience that put me more in touch with the natural world around me. It was difficult in the beginning, but that's to be expected when something is rather new to someone. Soon I realized that it wasn't my materials that I was missing, it was the alignment of priorities.
Living off the grid will show you what is most important, not only for survival but also for the possibility at having a higher quality of existence. Food, water, shelter, fire, spirit and patience are highly important. You have to learn how to shop differently for food, usually buying dry goods in bulk. Things like a gallon of ice cream becomes a treat -- without a freezer it won't last long unless it's winter. You learn that a bath or shower is a real process. The experience humbles you and causes you to become more thankful and appreciative. There eventually becomes a wonderful rhythm and harmony that soothes the soul.
It took trial and error to learn some things, while many other things came naturally (even things I had never done before). It is as if we all have built-in life skills that are simply overcrowded and masked by modern society and technology. Depending on yourself to provide the fire that cooks the food, to haul the water and purify it, to grow your own food and raise your own meat: these are simple beginnings to becoming self-sustained. Trading and bartering with other local farmers for supplies you lack provides a true sense of community -- people helping people.
There are things that must be done everyday in order for the place to function properly: Collect wood for cooking/heating, haul, purify and store the water, fill and clean the oil lamps, tend the garden and animals, and forage for wild foods. Of course there are always the normal house chores that need to be done. But somehow, there is more time for freedom to enjoy life. I read more books and got better at playing guitar. I had more time for my passions and to discover another way to live.
Aside from all of the hard work there are many pleasures in the pathless woods. The sound of the whippoorwill tells you the sun is rising and setting -- who needs a clock? There is a peace that lies within the floors of the forest. I once encountered a bear: it stood at the top of the stairs that lead down to the house. We just looked at each other for a while and then he ran off. That night I went out and placed some food as an offering to my new friend, and so began a new trend. The downside is when you have nothing to offer they break in and take what they can. Lesson learned.
Living down in a canyon in the middle of the woods changed my life for the better. I became more conscious about what I do and how it affects the next thing in the universe. I learned how to sustain myself and my family. The balance within me was incredible. Even though I have been back on the grid, I still disappear back into the woods for months at a time. I hold many lessons learned close to me and share them with others out there who seek a change. To experience life in the raw is an amazing thing; it provides a unity within yourself and everything around you. I wouldn't change it for anything in the world!