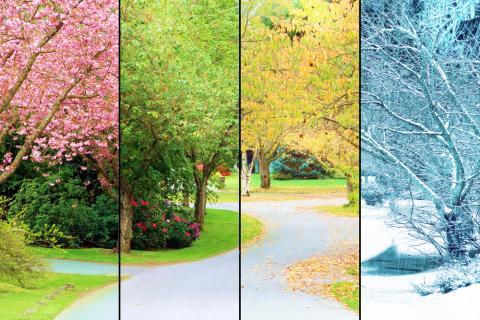 What's your favorite season? Maybe it's summer because you get to go to the beach. Or maybe it's spring because the weather finally starts to warm up and everything comes alive again. No matter which you pick, all four seasons are beautiful and have something to teach us. Living in tune with the seasons can really be a rewarding and make us happier year round. Here are three ways to live more seasonally and embrace the changing weather. 
1. Eat with the seasons  
What does it mean to eat seasonally? It's one of the biggest parts of living more seasonally, honestly. So many foods you find at grocery stores aren't in season. For example, tomatoes and strawberries in the dead of winter? Nope, not seasonal. Instead, this food has been forced to grow in greenhouses, or far away in another, warmer climate. 
Eating seasonally means only eating what grows locally near you. Ask yourself: Do you know what grows naturally in your region, per season? Most people aren't very familiar with the seasonality of plants (unless they garden) because everything is always available to them in grocery stores.
The easiest way to see what's in season near you is to find a helpful chart that tells you what foods are in season during which months. Here's a guide to seasonal eating with a printable chart included to help you out. However, the best way to tell what's truly in season? Visit your local farmers market. There, you can meet farmers who grow all kinds of produce local to you. They aren't shipped from miles away, grown in greenhouses or in warmer climates. They're grown in your climate, close by, and the way mother nature intended. While not every farmer at a farmers market will be organic, most use organic methods without the official certification (like avoiding pesticides). You can rest assured your food is high quality, tastes at its peak, and isn't harmful to you or the earth. 
To experience seasonal living in full, you must start eating seasonally. Challenge yourself to only eat whatever you can find at your local farmers market—even if that means no more strawberries in the dead of winter. For example, come winter, apples are the only fruit available at the farmers market. So, I only eat apples when I'm craving fruit. I don't feel I'm depriving myself of anything because the apples are so sweet, crisp, and tasty they can't compare to out of season produce. They're grown with love and free of pesticides. What more could I want? 
Just note that your farmers market may look different than other farmers markets. While one produce item may technically be in season, it doesn't necessarily mean you'll find it at your market. That's because every farmer grows different foods. If they don't choose to grow it, you won't see it at your market. For example, persimmons are in season during fall, but I never see them at my farmers market. This is simply because the farmers there don't grow them, not that they can't be grown. 
Another great thing about the farmers market? You can get into conversations about your food, how it was grown, and what practices your farmer uses. You can actually put a face to your food and know exactly where it comes from. I go to the farmers market every weekend, so they are very familiar with me. I love being able to say I know exactly where my food comes from. In the grocery store, you don't get that kind of farm-to-table interaction. 
So, what are you waiting for? Dive into seasonal eating and experience what all the hype is about. Head on over to your local farmers market this weekend!  
2. Get outdoors in every season 
So many of us stay indoors for a good majority of the day, working. It's sad how disconnected we've become from our roots. Humans are just as much a part of nature as the animals we hold near and dear to our hearts. That's why it's incredibly important to get outside as often as you can. 
Take a moment to cherish each passing season by spending time outside. Even if it's cold out, getting outside is so good for you. Indoor air pollution is a serious problem, so going outside has a lot of benefits to it, other than just reconnecting with nature. 
Are the leaves changing color near you? Take a walk under them and admire the vibrant foliage. Are there flowers blooming on the ground? Take a moment to walk over and study them, breathing in their scent. Fresh snow falling from the sky? Get outside and play in it. The sound of the ocean waves calling to you on a hot day? Go dive into them. No matter the season, it's important to interact with what nature gives us. All the seasons are precious and so very healing to engage with. 
There's something to do outside be it winter or summer. Here's a surplus of ideas to get your body moving: 
These articles are loaded with fun activities you can do to get outside, no matter the season. They'll truly help you feel more connected to the earth, even in your least favorite season.  
Personally, here's what I love to do, come each season: 
What are your favorite ways to spend the seasons? Make a list of things you'd like to try this season to help you feel better connected to the season you're currently in.
3. Follow the general rhythm of each season  
Each season has its own rhythm, its own tune. No two seasons are exactly the same, and all of them have something to teach us. My personal favorite season is summer. I love the vibrant energy of it, the abundance of produce at the farmers market, the warm languid days. It's a time to get outside, explore and interact with wildlife and plants alike. However, as much as I hate to see summer go, I always welcome the other seasons with open arms. Why? Because each one has something to offer and look forward to.  
After a summer full of fun, play and physical activity, I look forward to the slow down autumn brings. The changing leaves really show us how beautiful change can be. When winter approaches, I use it as a time to reflect and become more still. I don't do as many outdoor activities, but I still love to explore the landscape. It's quite peaceful, and a time to appreciate the role death has to play in life. Without death, new life could not spring forth. Which thus leads us into the next season, not ironically called spring. Everything jumpstarts into action again, revving up their engines for another life filled summer. 
To make you reflect on the beauty of each season, here's what they instill in us, and teach us: 
Summer: Fast paced. Live life to the fullest. Be wild and free. Have adventures. Abundance. Vitality. 
Fall: Slow down. Draw within. Harvest and reap the rewards of what you've sown. Practice gratitude for all you have.  
Winter: Reflect. Hibernate. Restore. Stillness. Silence. Ending old thought patterns. Plan ahead. 
Spring: Sow your seeds. Reawaken. Detox. Revive. New beginnings. Rejoice.  
Study and reflect on the seasons, and their rhythms, on your own. Journaling is a good idea. Perhaps, with each coming season, list what it represents to you in your own words. What do you feel during each changing season? What does it bring out in you? Which do you grow from most, or love the best? What are some symbols, traits and qualities you associate with the seasons? All of these questions can foster a deeper connection to the cycles of life, otherwise known as "seasons."