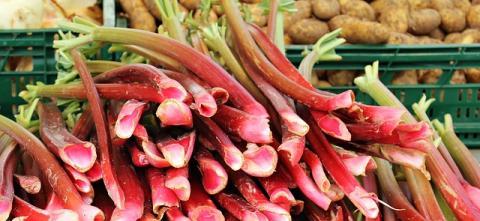 The weather is warm, the sun sets late, and the trees are lush and green. All of this signals rhubarb season, and usually that means lots of pies and sweet sauces over ice cream. This rich, tangy vegetable can also be used in more savory dishes as well though, and can add a pleasant new flavor to your summer meals.
This dish is easy to make, as it is very forgiving if you mess up, and can be adjusted to fit your taste. The carrots and the rhubarb blend together to create a bright, sweet and sour flavor, perfect for summer evenings at the picnic table. The dish can be served alone for a light dinner between two people, or as a side. It would also be great topped over some brown rice if you wanted to make it a little heartier.
Prep time: 10 minutes
Cook time: 20 minutes
Total time: 30 minutes
Ingredients:
4 large carrots
2 rhubarb stalks
½ tablespoon coconut oil
1 tsp—½ tablespoon maple syrup
Cinnamon, salt, and pepper to taste
Start by cutting the carrots and rhubarb into very thin slices, and heat the coconut oil in a large pan. Once the oil is melted, lower to medium heat and add in the carrots and rhubarb. Cover with a lid, and stir occasionally. This will take about 10 minutes.
Once the carrots are tender and browning and the rhubarb begins to soften, remove the lid, lower the heat, and add in the maple syrup, cinnamon, salt, and pepper. Continue to cook for another 5-7 minutes, stirring occasionally.
Once the carrots are sufficiently browned and the rhubarb has separated into small strands, remove from heat and serve warm.