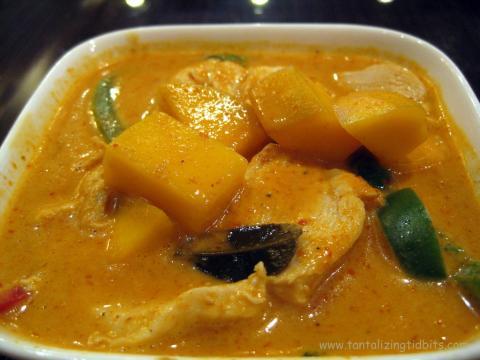 Mango Curry
Ingredients
Makes 3 servings
3 medium green mangoes
½ teaspoon sea salt
2 tablespoons virgin coconut oil
1 tablespoon curry powder
1 onion, finely chopped
4 cloves of garlic, finely diced
1 inch ginger root, crushed
½ teaspoon garam masala
Directions
Wash and peel green mangoes and cut lengthwise, discarding the seed. Put mangos in a bowl to the side.
Heat oil in a heavy skillet, add the next 5 ingredients (sea salt, coconut oil, curry powder, onion, and garlic) and stir fry constantly on low heat for 1-2 minutes.
Add the mangoes, salt and hot peppers to taste and toss for 1 minute.
Add ½ cup water, and then cover and cook until mangoes are tender and liquid is evaporated.
If the mangoes are too tart, you can add honey to taste as a sweetener.
Remove from heat and serve with roti, quinoa, or any side dish of your choice.
Photo Credit: "Mango Curry" by merri is licensed under CC BY 2.0