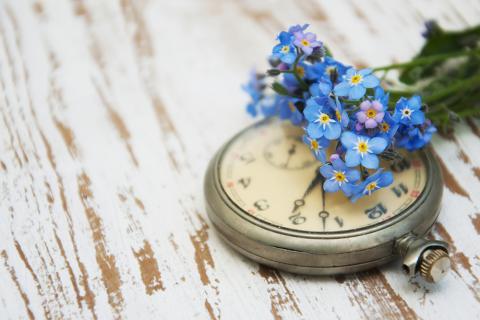 Jobs, family, relationships, and social functions often tend to take precedence over our own needs. It is easy to get wrapped up in the day-to-day demands of life. Whether we feel a sense of obligation or not, the day can slip away without time to ourselves. It's those days that leave us open to stress, anxiety, and a loss of sense of self. That is why it is important to squeeze a little bit of "me time" into our daily routine. Whether it be five minutes or five hours, the following five are ways you can break away and take precedence over your day.
1. Take Your Lunch Break, Alone
Meetings, e-mails, customers -- whatever is happening around you can stand to wait until you revitalize your energy. Even on hectic days, you still need to eat or you will face losing steam. If you can't leave the premise of your work environment, find an area where you can be alone. A picnic table outside or even your own car can provide an area of solitude. Having lunch with co-workers is nice, but it tends to lead to work talk, which defeats the whole purpose of taking a break. If all you have is five minutes, take it to yourself, as it may be the only chance you get all day. I know it may be hard, but in the end you will feel happier, refreshed, and ready to tackle the rest of the day.
2. Wake Up Early
For some, this is easier said than done. If you find yourself rushing out the door in the morning, set the alarm for 15-30 minutes earlier. Starting early with a bit of peace will set the tone for the day and put you in a better mood. Meditate, read the news, do a morning yoga routine, fix an amazing breakfast, or do any activity that soothes you and puts your mind right. You may be surprised how this slight adjustment in schedule can transform your day.
3. Go For A Stroll
After work or after dinner, squeeze in a walk. You can make it long if you like, but around the block will do. Leave your worried thoughts behind and focus on the peace of being alone. If you are in a city, listen to your headphones and notice how life around you is suddenly moving to the same music. If you are on a quiet street, try and listen for crickets or birds chirping. The most important factor is that you exchange your environment for some fresh air. Simply being outside can do wonders for the soul.
4. Move
It can't be emphasized enough how exercise is not just about the body, but also about the mind. Going for a run is a fast way to clear the head. Listen to your body, taking note of your pace and breathing pattern. Let your worries melt away as you strive toward a goal of physical endurance. You don't have to be a marathon runner to experience the benefits. The troubles, worries, and thoughts of the day will disappear as you focus on the present. 
5. Do What You Love
Whether it be reading a book, talking with friends, focusing on your art, biking, gardening, watching the sun set, whatever it is you wish you had more time to do, focus on that. Plan your day so you can set aside time to do what you love. Taking the time to do what you truly appreciate will reinvigorate your sense of self. The times when we get caught up in our schedule are the times we need to be ourselves the most. In the end, you will be happy you did.
The list of ways to find some "me time" is endless. Whatever your passion, creativity, hobby, or endurance level, it is important to set aside a window in the day in which You can focus on You. After all, we can only do our best by being ourselves.