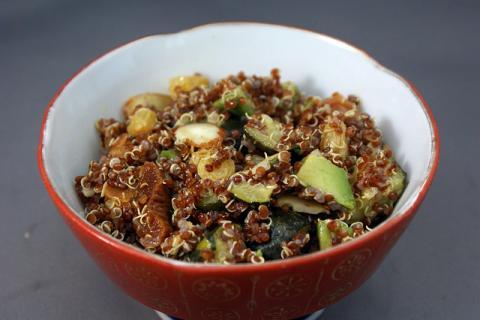 If you are in search of a balanced, nutritious dish, then look no further. Comprised of a protein, grain, and greens, Buddha bowls are your answer to a well-rounded meal. Why the name? While this bowl has been called many things, the name "Buddha bowl" refers to the shape. Packed to the brim with some of earth's finest ingredients, the rounded top is compared to that of Buddha's belly. And I assure you it will make your belly just as happy!
When preparing the grain or protein, I recommend making a little extra, as it will save some prep for your next meal. There is an endless amount of combinations and additional ingredients that can be added. Take a look at these for starters:
Each Buddha Bowl recipe serves two
Grain                                      Protein                                   Greens                       Additional                             
Rice                                         Black beans                             Spinach                       Hummus
Quinoa                                                Lentils                                     Arugula                       Dressing
Couscous                                Eggs                                         Kale                             Nuts
Barley                                     Chickpeas                               Chard                          Seeds
Freekeh                                   Black-Eyed Peas                     Watercress                  Sprouts
                                                                                                                                    Raw/cooked veggies
The key to making your bowl great is adding your favorite foods! If you need some suggestions, the following recipes can get your creativity flowing and mouth watering. Breakfast, lunch, or dinner, you can come up with a tasty bowl for any meal. Try one of the following combinations and incorporate a Buddha Bowl into your day.
Breakfast Buddha:
¼  cup quinoa, uncooked
2 cups kale, raw
2 eggs, poached
2 radishes, sliced thin
dash of lemon juice or balsamic vinegar
pinch of salt
DIRECTIONS
Rinse quinoa. In a small saucepan, add quinoa, ½ cup water, and salt. Bring to a boil then reduce heat. Place the lid on top and simmer for 15 minutes, or until water is absorbed.
Chop kale and slice radishes. Set aside.
Heat roughly 3 inches of water in a small saucepan on med-lo heat. Crack each egg into an individual bowl. Swirl the water with a spoon, then slide in the egg, one at a time. Cook for 3-4 minutes.
While the eggs are poaching, build your bowls! Divide quinoa, kale, and radishes into two separate bowls. Top each with an egg. Squeeze lemon juice over top or dash with balsamic vinegar and enjoy!
Lunch Buddha:
 15 oz. can chickpeas
¼ cup couscous
½ small red onion
1 cucumber, peeled
1 avocado
2 cups arugula
1 tbsp. olive oil
salt, pinch
Lemon dressing:
1 lemon
1 tbsp. apple cider vinegar
3 tbsp. olive oil
1 tsp. mustard
1 tbsp. honey
DIRECTIONS
Dressing
In a glass measuring cup, whisk all ingredients for lemon dressing. Set aside.
Bowl:
Boil ½ cup water with salt in a small saucepan. Remove from heat, stir in couscous and let stand for five minutes. Allow to cool, then fluff with fork.
Drain chickpeas and pat dry. Then, heat oil in a small pan on medium heat. Add chickpeas and cook for 10 minutes or until chickpeas begin to brown.
Chop red onion and cucumber. Slice avocado.
Divide couscous, chickpeas, red onion, cucumber, and arugula between two bowls. Drizzle on lemon dressing.
Dinner Buddha:
15 oz. can black beans
1 large sweet potato, peeled, diced
½ cup dry wild rice
2 cups spinach, raw
2 carrots, peeled
Hummus
1 tbsp. olive oil
2 tsp. paprika
DIRECTIONS:
Drain black beans and pat dry. Mix with paprika.
Bring 1 ½ cups water to a boil, stir in wild rice, cover, then reduce heat to a simmer. Cook for 45 minutes or until grains are tender. Drain excess water.
Heat oil in a pan over medium heat. Add sweet potato and cook, evenly, until browned.
Chop carrots.
Divide black beans, sweet potato, wild rice, and carrot into two bowls. Top with a heaping of your favorite hummus. 
Photo Credit: "Quinoa with Lots of Goodies" by imperfectcomplainer is licensed under CC BY 2.0