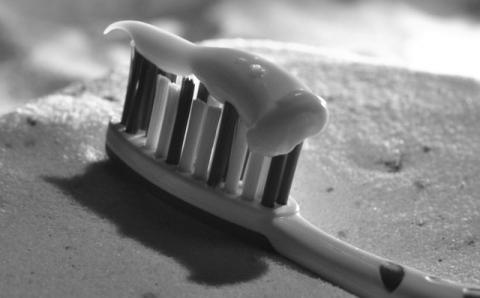 A few years back I switched my family from store purchased toothpaste to natural, homemade toothpaste. These days there are a lot of complicated chemical ingredients listed on the back of toothpaste tubes and containers—even many of the natural brands have them. Not to mention, the natural, safe brands seem a bit overpriced. So I thought—why not make my own? Being very choosy, I used safe, simple, natural ingredients, and now I am here to share my own natural toothpaste recipe with you!
I was not a big fan of the first natural toothpaste recipes I researched because they contained too many ingredients or too much essential oil. After many trials with different recipes, I figured out a super simple basic recipe that my family enjoys and uses daily. Needless to say, we have never gone back to the store-bought stuff. This simple basic toothpaste recipe can easily be tweaked as desired.   
Ingredients:
½ Cup of Organic Raw Coconut Oil (for carrier oil)
3 Tbsp. Baking Soda 
7 drops of Oral Safe Essential Oils (I use 5 drops of peppermint and 2 drops of tea tree oil)
1 Tbsp. Natural Sweetener such as Stevia (Optional)
Instructions:
Grab a small mason jar and melt the coconut oil into liquid form. To do this, I place my coconut oil into the small mason jar and stir it in a pot of hot water until the oil is completely liquid. Coconut oil is an anti-fungal carrier oil, and it also calms down the abrasiveness of the baking soda.
 Add in the essential oil drops to the liquid coconut oil. Some essential oils are really great for naturally maintaining oral hygiene. A few different varieties you can mix and match are grapefruit, orange, peppermint, cinnamon, clove, eucalyptus, and tea tree oil. When using tea tree oil, only add in 1-3 drops at the most because too much can be abrasive for your teeth. Mix the essential oil drops thoroughly in with the coconut oil.  
 Add in the baking soda with the oil, and then stir until pasty. I found the best place to store homemade tooth paste is in a small mason jar with a lid.   
Although I personally do not use sweetener, you can add and stir in natural sweetener to make your toothpaste taste more like the store-bought brands. Once in a while, I like to add 1 teaspoon of real cinnamon and a ½ teaspoon of cayenne powder to help promote good blood circulation for the gums.
I'm a big fan of simplicity when it comes to ingredients used in all products, and that is why this recipe is so basic. It may not be like other store brands, but wow is it effective! It has been both shared and praised by my own personal dentist as well as my child's dentist. If you haven't at least tried making your own toothpaste, you really ought to. Once you get accustomed to making your own, you may never want go back to the store for it ever again.