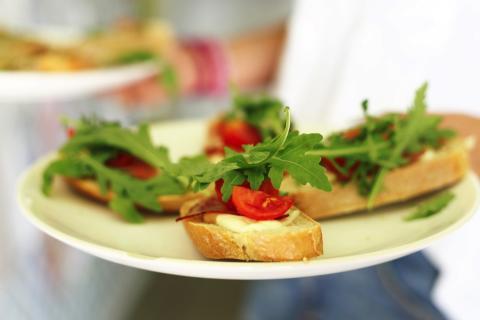 Craving a cheesy sandwich? Try this simple and delicious panini! With just a few ingredients you can create a complex meal in minutes. The cool tomato, gooey cheese and slightly bitter spinach melt together with the balsamic vinegar and form a perfect balance of textures and flavors. I suggest using mozzarella-style cheese, but feel free to experiment with any of your favorite vegan slices. 
Ingredients:
2 slices of bread
3 leaves of spinach
2 slices tomato
4 slices of vegan cheese
Vegan butter
2 teaspoons balsamic vinegar
Directions:
-Warm a pan over medium heat (or if you using a panini maker, turn it on).
-Spread vegan butter over one side of each bread slice and then set aside with the buttered-side down.
-Place the cheese on each slice of bread, followed by tomato, spinach and balsamic vinegar.
-Close the sandwich and then place directly into your heated pan or panini maker.
-If you do not have a panini maker, simply use a plate or another heavy pan to press down on top of the sandwich. Be sure to flip it over after a minute or two to ensure it cooks evenly.
-Allow to cool before eating.