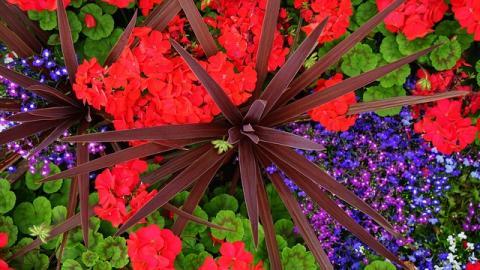 Want your home to smell awesome without using perfumed aerosols and gels? Try a fragrant garden instead; sweet-smelling house and garden plants will give out a lovely fragrance and help you make a greener environment too.
Strongly Scented Blooms
Think of fragrance and nature has a bounty to offer you. Other than the very fragrant and very obvious roses, here are some more flowers that can fill your garden with sweet scents and obvious prettiness.
Jasmine: There's a reason why jasmine is used in fresh potpourris and why it seems to be such a popular choice with perfumers – it's intoxicating and long-lasting and renders the air with an unforgettable fragrance.
Citrus: The fruits and leaves smell very citrusy, sure, but when citrus plants bloom into flowers, the aroma is incomparable – for a few months you will have a very fragrant garden plus  the fruits it bears.
Gardenia: The blooms are hardy, frequent and very popular with gardeners for these reasons and their wonderful fragrance.
Angel's Trumpet: The plant in itself is poisonous, but the flowers exude a wonderfully sweet fragrance and so are often used as tall hedges and outcrops.
Plumeria: A heavily laden Plumeria plant or tree looks gorgeous and exudes a heady aroma akin to that of jasmine – this one is commonly called Frangipani.
Scented Geranium: The scented geranium family, aka pelargoniums, are all together about 200 plants, and you can get just about any 'flavor.' They can smell of roses and oranges, apricots and cinnamon and even chocolate mint. Oh, and one of them also smells like dead fish so make sure you sniff and buy, lest you get an odorous garden instead of a fragrant one!
Leaves That Smell Nice
Sure, flowers smell nice, but sometimes leaves can pitch in too…
Eucalyptus: The eucalyptus family is known to produce very fast-growing tall trees, so we can believe that incredulous look you are giving this article. Firstly, with regular pruning, you can keep a eucalyptus relatively shorter. However, the eucalyptus genus also has shrubs and that's what we are talking about here – the leaves smell nice and can be part of a fragrant garden.
Sweet Bay: The leaves smell oh-so-divine and do have culinary purposes. The plant can grow well in soil as well as in a pot, but can also be sheared as a topiary hedge.
Thyme: Think of thyme as just one plant? You couldn't be more wrong! Thyme is a group of 150 perennial plants excellent for ground covers. Just nudge them a bit and they release wonderfully sweet aromas to make you love your garden even more.
Other aromatic leaves - Basil, Sage, Oregano, and Dill:  Each herb has a distinctive fragrance – nutty, spicy, metallic, and sweet – but they are all aromatic. A gentle brush of your hand and the aromas release, filling you and your garden with joy.
We hope your garden blooms with both beauty and fragrance – a good aroma can really uplift the mood and the soul. Research has indeed proven that good scents can trigger happy memories and lower anxiety levels as well. So happy sniffing and a happy fragrant garden to you… Do write in to us with your suggestions or queries in the comments section below.