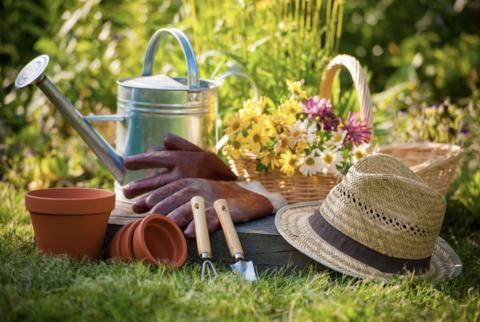 If there is one thing I have learned about gardening, it is how useful gardening tools can be. At times, some tools have been more useful than others. Depending on your gardening needs, you may need anything from small hand-tools to larger tools for your home garden. Sometimes it can be hard to figure out which tools you need for your garden. So, to help you out a bit, here are 6 tools that I have found to be very useful when working in the garden.
1. Gardening Clippers*
You can use gardening clippers for cutting just about anything in your garden. They can be used for various kinds of things, such as clipping back bushes, cutting string when tying up tomato or lemon cucumber vines, cutting flowers, and harvesting. If your clippers are strong enough, you can even cut branches as well.
We love these gardening clippers -- the no slip handle and durable metal makes pruning a breeze. Our favorite part: the super creative sap groove that keeps sap off the handle and blades! Happy clipping!
2. Broadfork*
A broadfork is a tool that was used to break up soil in the old days of gardening. It can be a workout to use, but it's much better for breaking up stubborn dirt and preparing rows in an eco-friendly way. Once you get the technique down, it becomes easy and even kind of fun to use. This is one of my favorite tools because it can also help to improve balance the more you use it.  
Try out this broadfork to sustainably preparing your soil! This affordable option is made in the U.S. and comes with a limited lifetime warranty.
3. Pitch Fork*
If you have a compost pile, you may already have this tool on-hand. Nothing works better for turning compost than using a pitch fork. I would recommend a four-prong pitchfork over a six-prong because things will stick less on a four-pronged one. They also work great for spreading mulch, such as leaves or animal bedding. 
This pitchfork gets the job done the right way, and with Amazon Prime, can be at your doorstep in only two days. Time to get gardening!
4. Japanese Garden Hoe*
These types of hoes are sharp on one side with a pointy tip. Japanese garden hoes are great for cutting and removing unwanted plants with deep roots. They are also awesome for organizing and fine-prepping garden rows. I probably use this tool the most when gardening.
We love this ultra-durable Japanese garden hoe for your collection of gardening tools.
5. Gloves*
I am a big fan of gardening with my bare hands as much as I can, but gardening gloves are an absolute must for certain circumstances. One example of a circumstance is when working with stinging nettle, which can be used to make a wonderful tea, but also stings for a long time when you touch it with your bare hands. (Trust me, I know from personal experience.) Another thing you should use gardening gloves for is when picking and pruning certain plants. Some plants release a skin-irritant or have thorns for protection. Let me just add that there are days when you don't feel like getting your hands and fingernails dirty, and that's another time those gloves will come in handy.
We love these Pine Tree Tools Bamboo Working Gloves -- they're eco friendly, effective, and eligible for Amazon Prime. At under $10, these are a must have for any gardner.
6. Hand Shovel*
When it comes to planting season, you may use this tool quite often. Hand shovels can be used for digging up things like deep, unwanted plant roots and dirt. Some hand shovels even come with rulers on them, which can be handy when transplanting plants in your garden.`
Without gardening tools, organic gardening would be very difficult. The best thing to do when choosing gardening tools is to first examine your garden's needs. If you thinking about trying to purchase any of the tools I mentioned above, try finding a second-hand store for used tools before buying them brand-new in a store. You may even want to check with neighbors that might have extras they are willing to let you have, borrow, or buy.
Stay tuned for more organic home gardening tips and ideas!
*Affiliate disclosure:
Basmati.com wants you to shop confidently! The links contained in this article are affiliate links, meaning that Basmati.com receives a commission for products purchased. These commissions are at no additional cost to you. We are a small team of devoted yogis, gardners, and explorers who only recommend products we stand behind, from brands we trust.