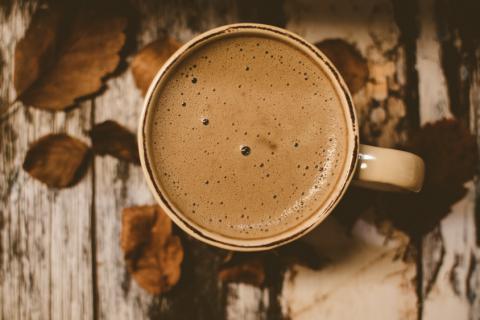 Winter is here, and with it comes lots of temptation for sugary foods and not-so-healthy drinks. One of my favorite things to drink this time of year is hot chocolate, a staple for many people over the holidays. Unfortunately, traditional hot chocolate is often loaded with refined sugar and dairy, not to mention hydrogenated oils if you're buying it pre-packaged.
Luckily, there's a healthy alternative to this delicious treat. Using just 3 ingredients, you can make your own hot chocolate that not only tastes good, but is packed with nutrients that will leave you feeling happy and energized. This recipe uses cacao, the raw form of the cacao bean, which is a superfood with many health benefits (often confused with cocoa, the more cheap, processed variety that has been roasted and powdered). It also leaves out the dairy, which is acid-forming and can cause inflammation in your body. Instead of sugar, the recipe uses stevia, which can actually lower your blood sugar levels and control high blood pressure. Whether you're vegan, paleo, gluten-free, or just looking for a healthy and delicious holiday treat, this hot chocolate recipe is for you:
Healthy, Vegan Hot Chocolate Recipe:
Serves 2
Ingredients:
·       1.5 cups almond or coconut milk (preferably unsweetened)
·       2 tsp raw, organic cacao powder (or you can grind cacao nibs in a coffee grinder)
·       Stevia to taste (optional)
Instructions:
·       Heat the milk on the stove until hot to the touch, but not boiling.
·       Stir in the cacao and stevia to sweeten.
·       Pour into a mug and enjoy!  
**If you're like me and love whipped cream, you don't have to pass it up! Here's a quick and easy whipped cream recipe that's guilt-free:
Whipped Cream Recipe:
Ingredients:
·       1 (14 oz.) can organic coconut cream (or full fat coconut milk), chilled in the fridge overnight
·       1 tsp stevia or 1 tablespoon coconut sugar or honey (optional)
Instructions:
·       Scoop the cold coconut cream into a bowl, leaving any excess coconut water in the can.
·       Whip it up with a fork until fluffy.
·       Add sweetener, continue beating, and voilà!
*For fluffier whipped cream, you can whip it up in a stand mixer. Just make sure you chill the mixing bowl and whisk in the freezer for 10 minutes before whipping
As the weather gets colder and you find yourself reaching for drinks that will warm you, keep in mind that many of them contain unhealthy ingredients that could leave you feeling worse. Also remember that there are always healthier alternatives to the drinks you know and love, so you don't have to sacrifice your favorite treats this time of year.