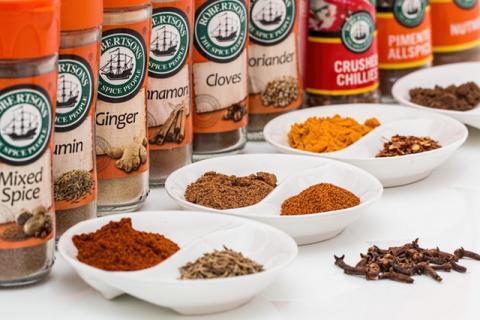 The first time I got my own place, I imagined a kitchen stocked full of all the dried herbs and spices I could possibly desire. I wanted to have everything on hand so no dish would go without. Hitting the spice aisle, I quickly realized I had no idea where to begin. Stocking up on spices for a new kitchen can be mind-boggling when you don't know where to begin -- not to mention expensive. Other than salt – which you're using in nearly every dish – which herbs and spices are the most convenient to have on hand
While it's nice to have spices all stockpiled in the cabinet, waiting to be utilized at your disposal, some don't get used that often – and spices don't retain their pungency forever. That's why you should stock up on the basics. From Italian food to Caribbean cuisine, having these 13 spices and herbs on hand will take care of practically all your herb and spice needs.
1. Bay Leaf
This is a popular herb used in soups, sauces, and stews. Bay leaves are aromatic and fragrant. When left to simmer, they add subtle layers to the dish. There are several varieties of bay leaf, and they can be used in European, Indian, and some Asian dishes. The leaves, however, should be removed before consuming. (Bonus: you can use the leaves to keep pests out of the pantry!)
2. Black Pepper
Salt and pepper are the two most widely used flavorings. Black peppercorn is the dried fruit of the plant Piper nigrum. When used it has a pepper quality that can tickle the nose. It has woody, floral notes on the outer layer. It is used in basically everything as it is the most popular spice. You can't have a complete spice cabinet without black pepper, and it's worth using peppercorns to get freshly ground.
3. Cayenne
If a dish requires heat, cayenne is the spice to use. Commonly used in Mexican, South American, and American cuisine, it adds a fiery quality that can be highly desired. It is used in sweet and savory dishes alike.
4. Chili powder
Chili powder is a blend of various forms of capsaicin, but it tends to be less hot than cayenne. It is often used in Latin American cooking with other spices, such as cumin and oregano.
5. Cinnamon
Cinnamon is the dried bark of a tree. It has a woody, earthy, sweet quality to it. It is highly common in Middle Eastern dishes. From sweet to savory, cinnamon can be used in baked goods, stews, coffee, teas, and for flavoring meat.
6. Cumin
Cumin is grown all over the world, but is believed to have originated in the Mediterranean. Middle Eastern, Indian, and Mexican dishes require cumin in many recipes as it blends well with other flavors. Try it in hummus or add it to a fajita seasoning.
7. Garlic
Garlic needs no introduction. A highly common spice, garlic is utilized in a multitude of cultural cuisine. Ground garlic is more concentrated than fresh, so take that into consideration when replacing it in recipes that call for fresh.
8. Ginger
Ginger is highly pungent and fragrant. Baked goods, Asian cuisine, juices, and a whole host of regional cuisine utilize the distinctive flavor of ginger. Ginger can neutralize the fishiness of a seafood dish and impart a fresh flavor. It can be added to teas and aid in digestion. It is an excellent, healthy spice to keep on hand.
9. Paprika
Paprika is ground from various chilies, peppers, and capsicums. It is relatively mild, especially when compared to cayenne. It has a sweet, earthiness and a beautiful bright red color. It's the national spice of Hungary, so buy Hungarian paprika if the store has it. Meats and stews would not be the same without it.
10. Nutmeg
From savory soups to starchy baked goods, nutmeg has a range of uses. It has earthy, aromatic notes similar to mace. It can be found in many regional cuisines including Italian, Indian, Middle Eastern, and Indonesian.
11. Oregano
Italian, Greek, and Mexican cuisine often call for oregano. Slightly bitter, and aromatic, it is often used in meats and tomato sauces. It is also common in seasoning blends.
12. Sage
Sage is a highly fragrant herb that belongs to the mint family. It enhances meats, pastas, seafoods, and sweets. It's a wonderful accompaniment with brown butter – especially when used as a sauce for butternut squash raviolis.
13. Thyme
Soups, sauces, meats, rice, and potatoes can be enhanced with a sprig of thyme. The flavor profile ranges from oregano to mint. When roasting potatoes, put some thyme on them and see how it transforms the flavor.
These are a few basics that should get you off on the right foot. But don't be intimidated by oddly named spices! Try them out and see how they transform the flavor of your meal.