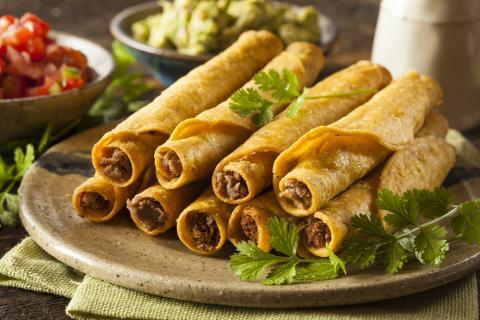 Considering its proximity to Mexico, it makes sense for California to have some of the best, most authentic Mexican food around. I can say that with confidence because I've actually eaten Mexican food in Mexico on numerous occasions, since I have family members from there. I'm a Northern California girl, but I must admit that some of the Mexican food in Southern California is better than what I've come across up north.
While living in San Diego, I was elated about being able to find quite a few Mexican restaurants that catered to vegans' dietary restrictions, which led to me rediscovering my love for taquitos (or rolled tacos, as native San Diegans say). Now that I'm back in NorCal, I can't just order taquitos, or little tacos, for pick-up from Lucha Libre anymore. Sigh. So, I had to recreate SoCal's vegan chorizo and potato taquitos all on my own, and the result was nothing shy of absolutely amazing. These lighter, baked taquitos are much healthier than the heavy, deep fried version, and they're not overly filling. This Tuesday, forget boring, unrolled tacos—give Taquito Tuesday a whirl instead!
Baked Vegan Chorizo & Potato Taquitos
Ingredients:
2 Tablespoons olive oil, plus more for baking
1/2 an onion, finely chopped
2 medium potatoes, peeled & finely chopped
2 cloves garlic, minced
9 oz. vegan chorizo
1/2 cup vegan cheddar cheese
salt & pepper, to taste
12 corn tortillas
Directions:
Preheat oven to 400 degrees Fahrenheit.
In a large skillet, over medium-high heat, sauté onion and potatoes in olive oil for about 5 minutes.
Next, add garlic, and sauté for another 2 minutes.
Then, add chorizo to skillet, cooking for about 8 minutes, until browned and crispy.
Last, mix in cheese, salt, and pepper.
Make tortillas pliable by gently heating them directly on gas burner.
Fill warm tortillas with 2 Tablespoons of filling and tightly roll them up. Place taquitos seam-side down on baking sheet sprayed with olive oil.
Spray taquitos with olive oil. Bake for 15-20 minutes, or until lightly browned and crispy. Top taquitos with shredded lettuce, guacamole, vegan sour cream, and salsa. ¡Muy delicioso!
Photo Credit: "Taquitos" is Raymond Martherus licensed under CC BY 2.0