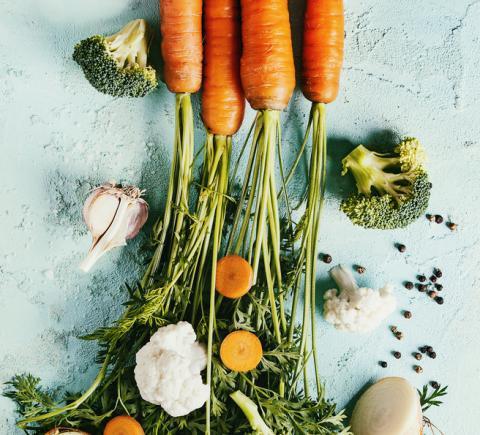 It starts slowly. Icicles drip onto the sidewalks, snow mounds shrink under afternoon sunlight, and here in the Pacific Northwest, heavy, warm rains are ushered in. As spring approaches, our appetites desire light, fresh, yet still warming foods. Enter the classic vegetable soup.
Soup is beloved the world over, and it's easy to see why. It can be changed and adapted hundreds of thousands of ways, and no dietary preference is so offbeat that a soup can't accommodate it. I love a rich and heavy soup in the thick of winter, but once spring starts to roll around, I crave something a little different.
This recipe for a classic vegetable soup is simple to make and comes together so quickly you'll wonder why you haven't bothered to make it before. I use buttery gold potatoes, long and tender French beans, roasted tomatoes, and corn to put the veggies into my vegetable soup, but as always, use ingredients that you love to customize the recipe for you. A quick squeeze of lemon really pulls this dish together, and adds a bright, fresh flavor to an otherwise ordinary soup.
Note that in the early spring, I substitute many frozen or canned vegetables in lieu of fresh. While you may think this is an unnecessary shortcut, remember that frozen or canned items are preserved at the peak of freshness. The same can't be said about those sad, out-of-season ears of corn in the produce aisle. Use this easy rule: if it's out of season, head to the freezer aisle.
Classic Vegetable Soup With A Twist
Ingredients
1 yellow onion, diced
1 clove garlic, crushed & diced
1/2 teaspoon crushed red pepper
4 Tablespoons olive oil
2 Yukon Gold potatoes, cubed
2 carrots, peeled & chopped
8 cups vegetable broth (homemade is best, but in a pinch use store bought or bouillon)
15 oz. can diced, fire-roasted tomatoes (in summer, use 2 cups fresh, seeds removed & chopped)
1/2 lb. French green beans, ends trimmed & chopped (when out of season, use frozen)
3/4 cup frozen sweet corn (in summer, use 2 ears of sweet corn, kernels removed)
1 lemon
salt & pepper to taste
shredded Parmesan cheese for garnish (optional)
Directions
Prepare all of your ingredients in advance.
In a large stockpot, add onions, garlic, crushed red pepper, and olive oil. Cook over low heat until onions and garlic are fragrant.
Add potatoes and carrots, cover, and cook about 5-8 minutes until potatoes are slightly tender.
Next, add vegetable broth and tomatoes, raise heat and simmer about 5 minutes.
Add green beans and corn, and then bring soup to a boil. Cook 5-10 minutes, testing vegetables to ensure doneness.
Remove from heat, add salt and pepper to taste, then squeeze the juice of one lemon into the soup.
Serve immediately with Parmesan cheese and fresh bread.