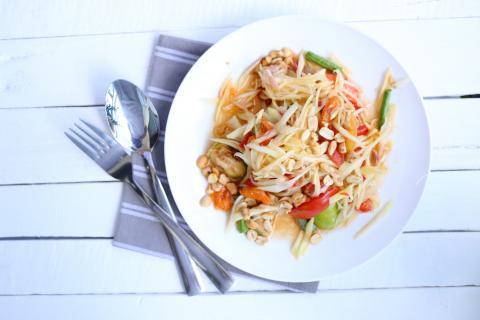 With the days warming up and summer around the corner, our dreams of dinner fare turn towards salads. Yet, we can only eat so many lettuce-based salads as we yearn for something exotic, tasty and fun.
Green papaya salad makes a wonderful meal for a warm evening meal. When we talk about papayas, we often visualize a gorgeous orange-fleshed fruit that is very sweet, silky and tropical tasting. Green papayas are not a different species of papaya; they are just an immature papaya. And green papayas pack a wallop of nutrients.
If you are looking to add potassium to your diet, green papayas are rich in this essential mineral. In addition, green papayas have a high concentration of papain, which is a very important protein-digesting enzyme. Papain is a great food supplement that helps with overall digestive health. Papain is also important for helping to reduce inflammation. Green papayas also contain large amounts of antioxidants and vitamin A.
Green papayas tend to have a neutral taste and a white flesh with a crunchy texture, similar to a carrot. This makes a great medium to make green papaya salad. There are many variations of this salad eaten throughout Southeast Asia, and many of us are familiar with the Thailand version known as Som Tam.
This version of Som Tam, or Green Papaya Salad, creates a medley of flavors and textures that are sure to please everyone at the dinner table. Flavors are sweet, salty, spicy and savory with crunchy, chewy, crisp and tender textures. This salad is fun to make and fun to eat!
This version has dried shrimp and fish sauce as part of the dressing. If you wish to substitute, you can leave out the shrimp and use soy sauce instead of fish sauce.
Enjoy this exotic and nutritious salad for your next dinner salad.
6 Servings
Ingredients:
5 Tablespoons fresh lime juice
3 Tablespoons palm sugar or golden brown sugar
2 Tablespoons fish sauce
2 Tablespoons dried shrimp, chopped
3 garlic cloves, minced
15 green beans (or 3 Chinese long beans)
1- 1 1/2 lb green papaya, peeled, halved and seeded
10 large cherry tomatoes, cut in half
1/2 cup fresh chopped cilantro
2 green onions, sliced thinly
1 fresh red Thai chili, sliced very thinly
2 Tablespoons dry roasted peanuts, chopped
1 cup mung bean sprouts

Directions:
Blend or whisk first 5 ingredients together and set aside.
Cook green beans (or Chinese long beans) in boiling water or steamer for
about 4-5 minutes, just until tender crisp. Rinse under cold water and cut
into 2-inch pieces.
Using a large box grater, grate green papaya until you have about 5-6
cups.
Place in a large bowl and add tomatoes, cilantro, green onions, chili and
green beans.
Pour dressing over vegetables, toss lightly.
Right before serving, add
 chopped peanuts and mung bean sprouts.
Photo By Takeaway - Own work, CC BY-SA 3.0, Link