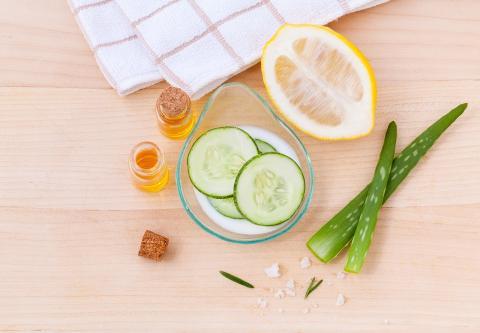 Anyone who knows me knows I love a good face mask. Face masks are great because they feel super luxurious (even if they make you look silly) and give your skin a treat. Even if you have a terrible skincare routine, a facial mask is super simple to slip into your week. Just apply it to your face after a busy day and let it work its magic. I love how you can do other things while your face mask is on, too (like watch TV, read a good book, or do your nails). It adds to the luxurious feeling of it. That said, DIY face masks are often the best (not the ones you buy at the store). They're super easy to make and you don't have to worry about spending a big chunk of cash on one loaded with chemicals. Here are 3 of my personal favorite DIY face masks. They literally take 5 minutes to whip up, so you won't be disappointed. 
Soothing Turmeric Face Mask  
This face mask is really great for people with acne prone skin. That's because turmeric has anti-inflammatory and antibacterial properties. Aside from helping with acne, turmeric is also helpful at treating sun exposure, stretch marks and blackheads. This particular facial mask combines the healing power of mint and aloe vera, which makes it perfect for anyone who needs to cool down (or was sitting in the sun too long). If you're vegan, you can try leaving out the honey in this recipe and adding a dash of agave nectar instead.
Ingredients: 
1 teaspoon of turmeric 
1 tablespoon of honey (or agave nectar) 
1 tablespoon aloe vera gel 
1 teaspoon of mashed mint leaves (fresh or dry) 
Directions: 
Super simple: Just mix the ingredients together in a bowl and apply directly to face. Try leaving it on your face for 20 to 30 minutes. During that time, watch an episode of your favorite television show or catch up on reading. When the time is up, simply wash off using warm water and gently towel dry your face. Repeat once a week for best results (especially if you have stubborn acne).
Scar-Reducing Face Mask 
Got any acne scars? What about some spots and wrinkles? This face mask will definitely help. It's also super easy to make. I really recommend this for people who have a nasty past with acne or are starting to show signs of aging. The results you'll see are pretty magical! Unfortunately, this is not a vegan face mask (due to honey). 
Ingredients: 
1 teaspoon of lemon 
½ teaspoon of cinnamon 
½ teaspoon of nutmeg 
1 teaspoon of honey (or agave nectar)
Directions: 
As with the other masks, combine all the ingredients together thoroughly in a bowl. Apply to skin on your face and neck (anywhere you have any acne scars, spots, or wrinkles really). Make sure to avoid your eyes! Leave on for 15 to 20 minutes, then rinse with warm water. You might want to apply your favorite moisturizer afterwards, but that's optional. Do this once (or even twice) a week for best results.
Milk & Oats Face Mask 
As simple as it sounds, this face mask is made from two ingredients: milk and dry oats. You probably already have both in your house right now. While I certainly don't recommend this mask for vegans, the milk can be substituted using vegan alternatives (almond milk, for example). That said, organic milk from (humanely raised) cows is best for this recipe. Cow milk contains lactic acid, which is really great for tightening and toning skin. It will make your skin as smooth as can be. This particular mask is great for anyone with dry skin (or people who just want softer skin). 
Ingredients: 
½ cup of milk (organic, humanely raised cow's milk works best) 
1 cup of oats (organic, preferably) 
Directions: 
Mix the two ingredients together in a bowl, then scoop up into your hands and apply it to your face. This mask is going to be pretty runny, so it will be messy. Also, some oats might literally fall off your face. That's fine. Scrub the mask into your skin gently for an exfoliating effect (this will help to soften it even more afterwards). 
Once you've applied your mask, leave it on to dry for 10 to 20 minutes. You might want to be careful: Oats will probably fall off at random! Also, when the mask does dry, you'll know: Your face will get very tight. Simply wash the mask off with warm water afterwards. Your skin will feel super soft!