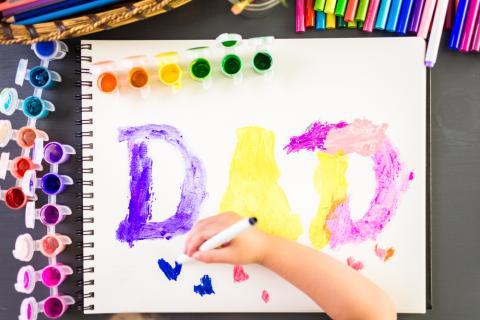 Buying a gift for a man can often be difficult, especially when that man is your dad and you're tired of buying him a tie each year. With Father's Day right around the corner, however, you might be stressing about what to give, outside of the time you can hopefully spend with him. Here are 6 holistically minded Father's Day gifts that might be received a little more enthusiastically than the same old tie or baseball hat–and with the added benefit of health.
1. Deodorant
Don't let Dad take offense when he opens his gift and finds…deodorant. Deodorant is often a chemical wasteland contained in a simple swipe-able container. Studies over the last several decades have found mixed results on links between Alzheimer's disease and aluminum, but it's far better to err on the side of caution, especially because aluminum-based antiperspirants have been linked to breast cancer. Rather than let Dad use deodorant loaded with dangerous aluminum and other toxic products, give him a natural deodorant. Luckily, deodorants have come a long way since the early products that rarely seemed to work. Some solid brands (with the added benefit of great smells) include Primal Pit Paste, RazoRock and Herban Cowboy (bonus: they're vegan). Or, better yet, make your own. 
2. Aftershave or Beard Oil
If you've listened to any podcasts recently, chances are you've heard about beard oil, aftershave, and a variety of other facial hair products. While these aren't necessarily new, they are bringing a better awareness to what's in conventional aftershave: phthalates, parabens, and artificial scents, just to name a few. Many of these are directly linked to low sperm counts, testicular cancer, and disrupted hormones. Rather than let your dad shave with chemicals, send him the gift of good products made from even better ingredients. Badger Balm's After-Shave, for example, is made with sunflower oil, baobob seed oil, and rosehip, and is scented with bergamot for a pleasantly clean smell post-shave. Other options include Dr. Bronner's Shaving Soaps and A Wild Soap Bar's Black Willow Shave Soap, which is exactly as it sounds–a bar of black soap made from black willow to provide antiseptic properties, glycerin to create a generous lather, and eucalyptus oil to leave an "invigorating" smell. Still itching to give a homemade gift? Try this recipe for a make-your-own shaving cream, or experiment by combining coconut oil, Shea butter, and your essential oil of preference for a truly deluxe shave.
3. Insulated Water Bottle
Plastic water bottles suck. They're filled with chemicals (worse so if kept in warm conditions for any period of time), require more water to make than what they hold, and are environmentally irresponsible. The solution? A reusable, insulated water bottle. Most health food stores carry a variety of brands, but you can also order a wide range online, too. Several keep liquids hot or cold for more than 24 hours, which is particularly handy for dads who also like to go camping from time to time. These Swell containers offer a large selection of colors. Eager to make a gift? Most pottery stores have options for you to paint your own glass mug or water bottle. Decorate it at your will, and then add a plastic cozy to keep the glass safe from drops or cracks. 
4. Self-Massage Tools
Gift certificates for massage, acupuncture, chiropractic work or even float sessions all make great gifts, but they don't last. Why not give something that does? Self-massage tools like foam rollers or sticks will help dad reach tight or stiff areas, stretch fascia, and release tension, and most can be done anywhere. Take it to the office, close the door during lunch hour, and roll away. Even better: this company offers collapsible foam rollers so dad can take this on work trips or holidays.
5. Blue Blocking Glasses
These aren't your typical shades, although those can make good gifts, too. Instead, blue blocking glasses eliminate potential sleep disruptions that can come from electronic screens like the television, laptops, or your cell phone–all of which have the potential to mess with your circadian rhythm. Not just any glasses will work, and head's up–the "dorkiness" factor may play a role in your dad's potential lack of excitement. But bribe him to try it out for a day or two and he will likely be pleasantly surprised at how much better he sleeps. 
6. Kombucha Brewing Kit
A scoby, which is an acronym for a symbiotic culture of bacteria and yeast, is a less-than-attractive gift, but if your dad has a taste for kombucha, a kombucha brewing kit can make a great gift for years to come. Several websites, like Kombucha Kamp, offer beginner kits, which include everything from the vessel to the tea to the sugar and flavorings and even the scoby itself. Not impressed? Beer brewing kits can also be found, but we can't exactly endorse the health benefits of that one (although hops is a different story.)
7. A Card
Maybe it's obvious, but a handwritten card can often say more than any gift can. Write your dad a poem, or include a few photos from your favorite memories with him. Better still, a handmade card can reduce the need for plastic-wrapped store-bought cards and are often received with extra love thanks to the effort put in to making them. Does your father have a green-thumb? Try making him seed paper!