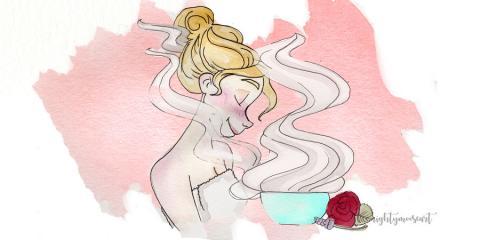 Have you ever tried a facial steam? Facial steams are great for clearing your pores and can be customized to your liking. They're fairly simple to make and only really require herbs and water.  Facial steams can also be great for people who are suffering from colds, allergies, or congestion (of any sort). That's because they promote healthy circulation through increased perspiration: This helps your skin's blood vessels to dilate, which in turn improves blood flow. Of course that's only one benefit: Facial steams also cleanse, hydrate, nourish, and calm the skin. They're pretty great for creating an all-around glow. So if you feel like your face is dull, dry, or red, an herbal steam might do it some good! My personal favorite herbs for facial steams are rose, lavender, and chamomile, simply because those are my favorite herbs. There are some herbs that are better for different complexions (oily and dry skin, for example), but no worries. I'll be sure to include which herbs are good for any complexion you might have.  And remember: why buy it when you can DIY it? 
Simple Herbal Facial Steam 
Ingredients:
¼ cup of dried plant material
2 cups of water
Essential oil(s) of your choice (optional)
Note: For normal skin, I recommend using rose, lavender, and chamomile. For dry skin, try peppermint, calendula, and fennel. Oily skin will benefit from rosemary, thyme, and eucalyptus. When in doubt, rose, chamomile, and lavender do well for any skin type. If you have combination skin, you may also try blending a mix of herbs for oily and dry skin together to create a unique facial steam all your own. You can find all the herbs for this recipe on Mountain Rose Herbs. 
Directions:
First, it's important for you to completely cleanse your skin. Make sure it's free of any dirt or makeup before even attempting this. Since this will open your pores, it's important to make sure they're clean to prevent any unnecessary acne outbreaks. That way, you will get the absolute best results. In fact, if you do this right, the facial steam will actually help to prevent acne! Pretty cool, huh? Simply clean off your face with your favorite cleanser, and then dry it off with a cloth. Do not use a harsh, chemical-filled cleanser though, as it will counteract all the good the facial steam will do. Try buying an all-natural cleanser or making your own instead. 
Now boil 2 cups of water in a teapot and add the dried flowers and/or herbs of your choice. Let the concoction steep for at least 10 minutes, then press or strain out the herbs/flowers. Pour the hot infusion into a large bowl of your choice. Add in any essential oils at this point. I recommend some rose, lemon, or geranium essential oil, but feel free to get creative. Think about what essential oil will best complement the herbs in your facial steam. If you'd prefer not to add any essential oil, that's fine too.
Then, if you have long hair, tie it back to make sure it stays out of the way. Hang your head over the bowl, making sure there's about 6-8 inches of space between you and the bowl. Drape a towel over your head, as this will create a steam tent. Steam your face and neck for about 5 minutes, remembering to breathe in the gorgeous scent you've created. Trust me, things will get a little hot while you're in there, but it's actually quite relaxing. When the 5 minutes are up, rinse your face and neck with lukewarm water and pat dry. 
Steaming Tips 
Here are a few good tips to consider every time you make an herbal facial steam.  
If you do not have any fresh herbs handy, you can use a couple of tea bags instead (just prepare the tea as you normally would, but make sure it steeps for at least 10 minutes).  
With concentrated essential oils, a few drops go a long way. 
Select organic herbs and essential oils whenever possible. 
Always wash your face prior to steaming. 
Be cautious when placing your face close to the hot steam. If you are not careful, you may scald your skin and break capillaries under your skin. 
Do not steam longer than 5-7 minutes, as exposing your skin to heat for a long period of time may dry out your skin (which isn't the goal). 
Try following up your steaming with light exfoliation and a natural moisturizer (like coconut oil).