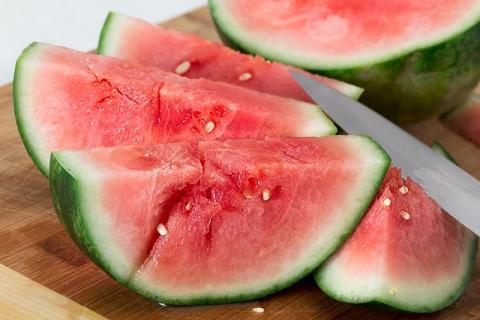 What do you think of when you hear the words "Fourth of July"? Most people think of fireworks, picnics, family, and, of course, food. Dishes like potato and pasta salads, burgers and hotdogs, fried chicken and corn-on-the-cob, and even strawberry shortcake can be a fun way to celebrate a once-a-year occasion, but most traditional dishes are full of processed grains, high in sugar, and saturated with dangerous hydrogenated oils and trans fats. Why not trade these traditional dishes (often pre-bought at a grocery store) for one of these healthier, tastier and, best of all, fun-to-make-together creations?
1. Instead of a traditional potato salad, try a Sweet Potato Salad
Why? Sweet potatoes are high in vitamin A and vitamin C, and they are a surprisingly decent source of potassium. Swap the conventional mayonnaise for extra virgin olive oil and a light vinegar, like sherry, to brighten up the flavors. Add your favorite herb of choice (I love cilantro, finished with a squeeze of lime, or parsley with a bit of lemon juice) and serve cold. 
Sweet Potato Salad
Ingredients:
1 lb. sweet potato
1 tbsp lime juice (or juice from one lime)
1 tsp. cumin
1 red onion, sliced very fine
2-3 tbsp chopped cilantro
Handful of raisins
1/2 cup extra virgin olive oil
Cube sweet potato, then boil until tender but still firm. Let cool. Mix olive oil with lime juice, then add sweet potato. Continue gently mixing with sliced onion, then finish by sprinkling on cumin, raisins, and cilantro to top. Serve cold!
For variety, try these other fun sweet potato recipes:
Sweet Potato & Black Bean Dish
Baked Japanese Yam with Tahini Sauce
2. Ditch the bland grape salad and replace with Watermelon Mint Salad
Grape salads are often the bane of most picnics, and are filled with any number of high sugar, low-fat ingredients like sour cream, cream cheese, and sugar. Trade in this boring number for a zesty watermelon salad. Watermelon is more hydrating than most sports' drinks and contains high amounts of vitamin A, B6, and C–not to mention, it's delicious. Meanwhile, mint packs a flavor punch guaranteed to outdo any other fruit salad on the picnic table. To up the protein, add your favorite soft cheese. I prefer goat cheese, but feta is a particularly great option if you digest dairy fine.
Watermelon Mint Salad
Ingredients: 
1 cubed watermelon
1 bunch mint
1 tbsp lime juice 
1/2 cup feta cheese (or goat or other cheese -- or omit for vegan option)
Salt to taste
Simply mix all ingredients, then salt to taste. To keep this salad fresh, you can prepare all ingredients then transport to your picnic or gathering separately. Once there, mix and serve immediately. 
Here are some other refreshing watermelon and mint recipes to try:
Summer Mint-Lime Citrus Cooler
3. Pass on the strawberry shortcake and test this fun alternative: Strawberry Cream Ramekins
Strawberries are healthy, whichever way you slice it: they're high in antioxidants, fiber, and vitamin C, and are low in calories, which is helpful for those looking to cut back on calories. While they taste sweet, they're relatively low in sugar (compared to, say, oranges or peaches) and hold up well in salads, fruit plates and dessert. I hesitate to call this a recipe, as both the ingredients and steps are incredibly simple. That said, feel free to get creative here. Swap strawberries for other in-season fruit like blueberries, blackberries, or bananas–or, try a combination of all of the above. 
Strawberry Cream Ramekins
Ingredients:
1 lb sliced strawberries
1 container raw cream (or, for a vegan alternative, simply substitute decadent coconut butter)
Raw honey to taste
Mint for garnish
Whip raw cream until thick. Simply place a handful of strawberries in a small dish or ramekin, and then add a dollop of whip cream. Drizzle raw honey over top and garnish with a sprig of mint. Enjoy!
Looking for additional summertime strawberry recipes that also double as delicious desserts? Check out more here: