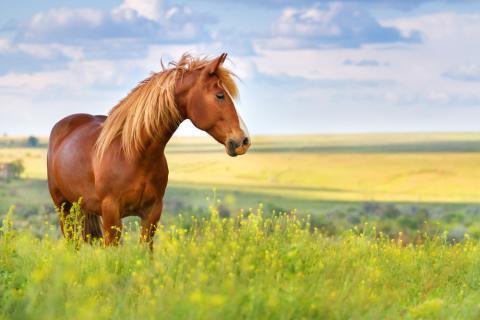 I was three years old the first time I sat upon a horse and five years old when I was given a pony of my own. Rosa, a miniature pony/Shetland cross was eager to please as I learned to brush her mane, curry her soft sides, and pick her hooves. I loved caring for her, and especially loved getting to ride her in the riding arena or along the dirt track at our farm. It turns out that I wasn't just having a good time, but actually receiving benefits that have likely lasted into adulthood. Have you ever wondered why anyone would sit upon a horse? Are you curious about taking riding lessons, or even going for a local trail ride? Here are five great reasons why horseback riding is much more beneficial than you might think.
1. Horseback riding can improve children's learning ability
The physical benefits of riding horses might seem obvious—developing strong legs and a killer core—but few are aware of the mental benefits. A study published in Frontiers in Public Health and carried out by Tokyo University of Agriculture found that children who rode horses improved their abilities to perform behavioral tasks. "Riding on a half-breed horse or a pony improved the ability to perform Go/No-go tasks and solve arithmetic problems, possibly through sympathetic activity," the study stated. The vibrations of the horse—which come from having the horse walk, trot, canter, or gallop—seem to be at the core of the reasoning behind the improvement. Additionally, the study found that a stress reduction might be achieved by riding horses. 
2. Horseback riding can build character
We know horseback riding develops strong upper thighs, but it can also build a different kind of strength: character. A study published by the German Equestrian Foundation examined 411 riders, ages 14 to 65, then compared that to 402 non-riders of the same gender, age, and income distribution of the riders. Says horsetalk.co.nz, "Riders, it was found, were generally more determined, enthusiastic, structured and balanced than their non-riding counterparts. They also showed greater leadership, were more assertive and competitive, and demonstrated greater resilience." Part of this character development is due to the fact that taking care of and riding horses helps develop empathy and sensitivity—and what better time to teach children than while they're still young and learning.
3. Horseback riding is thoroughly hard work
Think that sitting on a horse doesn't constitute exercise? Think again. An article published in 2014 in the New York Times linked to a compendium of physical activities and the metabolic equivalent of a task that it provides. For example, per 2011 measurements, basketball requires 6.6 METs, whereas football earns you 8.0 METs. Horseback riding was measured at 5.5 METs, which, considering the fact that one is sitting upon a horse the entire time, is fairly high. Measurements can dramatically change depending on the speed and gait of the horse—for another 1.8 METs, have your horse gallop at full speed. 
4. Horses (and horseback riding) can provide therapy
While the science is lacking (mostly due to a lack of studies and long-term efforts), the buzz is real. More and more people are looking to horses as therapy animals. In The Guardian, an article published in 2012 detailed the growing number of people looking to pursue equine therapy. "It's especially good for people who don't take to talking therapies. Counseling is not a 'one size fits all'. While you might forget a conversation you had with your counsellor a few weeks on, it's unlikely you'll forget what happened when you stood in a field with your counsellor and a horse. It's not like patting a dog; it's a big animal," explains therapy counsellor Gabriella Gardner of Shine for Life in the article. As noted, most credence is anecdotal, but spending time with a horse, especially while riding, is worth a shot. 
5. Horseback riding can benefit PTSD
A study by Baylor University examined the benefits of horseback riding and equine therapy for veterans suffering from Post-Traumatic Stress Disorder—with positive correlations. As Equine Chronicle explains: "The participants reported clinically meaningful improvement in PTSD symptoms and mental health, and marked improvement in participation and overall functioning over the course of the program." The difference between those who participated in the program and those who did not increased over time, suggesting that the longer the equine therapy, the better the lasting results. 
Interested in giving horseback riding a try? Connect with a local riding stable to set up a lesson or join a trail ride where instructors will lead a group of people on horses down a fun trail. 
Happy riding!