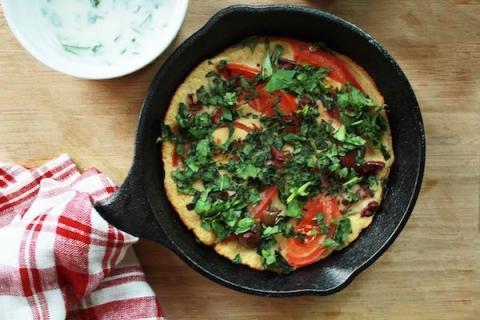 All photos by Shiraz Leyva
Did you know that you can support nature and the environment with what you eat? A recent study found that a widespread switch to vegetarianism could curb greenhouse emissions by nearly two thirds. And—get ready for this—a switch to veganism could decrease emissions by a whopping 70%. That's a great reason to try today's recipe, chickpea frittata with tomato, olives, and kale. The other, of course, is flavor.
My transition to more of a plant-based diet has been gradual, easeful, and intuitive.  Eating more plants began as an extension of gardening.  The more time I spent in the garden, the more connected I felt to the earth and the energy of plants.  As I cooked with more vegetables, I was increasingly drawn to them. They not only tasted great, they looked beautiful on my plate, and they made me feel good too.  I still love and cook certain classic dishes but I tend to add a lot more vegetables to everything these days.  So if you visit me you'll likely get something like today's recipe, which is a version of a classic socca with a twist.
Socca is a simple, naturally gluten-free, oven-fired flatbread made out of chickpea flour, or besan.  In the south of France, it's often made by street vendors. After cooking over a wood fire, charred shards of socca taste remarkably delicious with a glass of cold rosé. Socca can be served as an appetizer or, when accompanied by vegetables, a light meal.
This version of socca is less like flatbread and more like a frittata due to its texture and the inclusion of vegetables. I cook this during the summer to fall harvest transition, when tomatoes are still available but the heat no longer prohibits using the oven. Adding toasted spices to the batter imparts a subtle smokiness and lots of flavor to the final dish.  Chickpea flour is protein rich, and with all the vegetables, this frittata makes a nice meal all on its own. If my guests eat dairy, I'll often serve it with lemony yogurt sauce and a little harissa on the side. Either way, I always put a little cilantro on top, which offers a fresh, pretty welcome to the plate. Many of us already know how delicious and satisfying a plant-based diet can be, but if you have any friends whom you'd like to convince, this frittata will do the trick.
Sometimes in the middle of the day, often after I've spent too much time in front of the computer, I'll go outside and lie under a canopy of trees. Regardless of my mood, I'm always a little awe inspired and grateful in those moments. If you're anything like me, nature's beauty might be one reason you're called to contribute to the preservation of the environment. Although there are many ways to express love for the earth, using one's diet to do so is one of the easiest, and most pleasurable. But don't just do it for the trees, do it for yourself, and for the next generation, too. And while you're at it, have a glass of rosé, and enjoy.
Vegan Chickpea 'Frittata' with Tomatoes, Olives, Kale, and Yogurt Sauce
(Serves 2 as a light meal; 4 as an appetizer)
Ingredients
¼ teaspoon cumin seeds
¼ teaspoon coriander seeds
¼ teaspoon fennel seeds
¼ teaspoon black peppercorns
1 cup chickpea (garbanzo bean or besan) flour
1 cup lukewarm water
2 tablespoons olive oil  (plus 1 tablespoon for the pan)
1 clove garlic, minced
½ teaspoon sea salt
1 tomato
¼ cup chopped green and black olives
½ cup stemmed and chopped lacinato kale
For the sauce (omit if vegan):
2-3 tablespoons plain yogurt
1 tablespoon fresh lemon juice
handful of chopped mint leaves
For serving:
handful of chopped cilantro
harissa (optional)
Directions
Place the spices (cumin, coriander, and fennel seeds, and peppercorns) in a skillet on medium heat and toast for about five minutes, shaking the pan periodically to prevent burning, until fragrant. Remove the pan from the heat and set aside. When the spices are cool enough to handle, place them in a mortar and crush until well ground.
Preheat the oven to 450° F. While it heats, assemble the frittata batter. Put the chickpea flour in a bowl, along with the salt and toasted, crushed spices, and stir to combine. Slowly add one cup of lukewarm water and whisk, eliminating any lumps. Add garlic and olive oil and whisk again. Cover and allow to rest. (The batter can be stored in the refrigerator for up to 12 hours).
Put two tablespoons of olive oil or raw butter in a larger skillet over medium heat. When hot, pour the batter into the pan. Add the tomatoes, olives, and kale. Cook for about six minutes.
Transfer the pan to the oven and bake for ten minutes. While the frittata is cooking, assemble the yogurt sauce. In a small bowl, combine the yogurt, lemon juice, and mint leaves, mix well, and set aside.
Remove the frittata from the oven and allow to cool for ten minutes. Slice, garnish with cilantro, and serve with yogurt sauce and harissa, if desired, on the side.