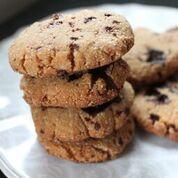 They say that cookies are the staff of life, or is it bread…either way, I've been "running" on cookies lately. Ever since I discovered this healthy, low sugar, vegan, grain-free recipe, it's been my go-to snack as I run out the door—and sometimes even right before I jump into bed! The ingredients are simple and easy to find (no complicated gluten-free four blends here) and it comes together super quickly and easily.
I first made these grain-free cookies when I started eating paleo about 3 years ago—in recent months, though, I've cut out eggs, so that leaves me with not very much to work with baking-wise. I took one of my paleo pancake recipes that uses starch in place of eggs and tried to turn it into a cookie batter and boy oh boy, did it ever work.
I've been making tons of different versions of this simple, grain-free cookie, including gingerbread and amaretti (aside from the classic chocolate chip, 'cause nothing beats a good chocolate chip cookie).
These are technically sugar-free, using only natural sweeteners like date syrup, coconut syrup, maple syrup, or honey to get that sugary-kick while staying low on the glycemic index. In this recipe, I used half date syrup and half coconut syrup, but you can use any combination of the syrups mentioned. Coconut syrup has a tangy flavor and will warrant softer, chewier cookies; maple syrup will give you crunchy, shortbread-like cookies; date syrup will give them a fruit-kick; and honey will make them dense and chewy, so experiment and see what type of cookie you prefer! I like a chewy cookie so I went with coconut/date syrup.
This recipe will give you about 14 medium-sized cookies, which is pretty good if I do say so myself! Just remember that almond flour is pretty high in calories (though nutrient dense) so one or two is all you need for a substantial snack (although I've gone WAY over my limit once or twice).
These cookies can be stored in the freezer for long periods, or in a sealed container for up to 7 days. They're perfect for your kid's lunch, or a quick snack when you don't want to shell out $3.50 for a protein bar. I keep these morsels in my desk and grab one when I need something sweet.
Grain-Free Chocolate Chunk Cookies (Vegan & Paleo)
Ingredients
2 1/4 cups of almond flour
1/3 cup potato starch
2 teaspoons baking soda
1/4 teaspoon sea salt
2 1/2 tablespoons coconut oil, melted
1/4 cup date syrup + 1/4 cup coconut syrup (can sub in any low-glycemic syrup)
sprinkle of stevia (if desired)
1 teaspoon vanilla
1/2 cup of dark chocolate chips
Directions
1. Combine the almond flour, potato starch, baking soda, and salt in a large bowl and set aside.
2. Heat the coconut oil over low heat in a small saucepan until melted. Add in the syrup and vanilla, and stir until combined.
3. Form a "well" in the middle of the almond flour mixture and pour in the oil and syrup mixture. Stir with a wooden spoon or with your hands until fully combined. Add in chocolate chips.
4. Roll into medium-sized balls (size of a golf ball), and flatten slightly onto a parchment-lined baking sheet. Bake for 16 minutes at 300F, until deep-golden brown on the bottom. Let cool, eat!