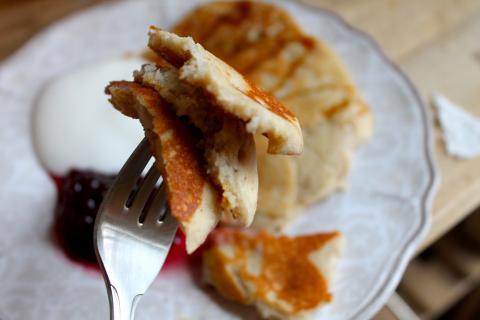 After going grain-free a few months ago, I started to desperately miss pancakes. I used to get pancakes every Sunday morning as a kid and I refuse to live a life where I don't get to indulge in a syrupy stack at least once in a while. I was looking for a recipe for pancakes that are allergen-free—so no gluten, eggs, or dairy—and that are also paleo. I know…tall order. I found a recipe for banana pancakes, but they had gluten-free oats in them…I can do oats, but I wanted a truly grain-free option.
Well…I came up with the perfect paleo, egg-free pancake recipe that is quick to make (you basically just mix it up in a blender), low in sugar, vegan, and completely allergen-free. How do you like them apples (or bananas, in this case)?
I don't know about you, but I've always loved sliced banana in my pancakes, so that when you flip them, you have a layer of gooey-caramelized banana on the bottom, kinda like bananas foster. You can also sprinkle on chocolate chips (I use shaved dark chocolate), wild blueberries, raspberries, finely sliced apples and cinnamon…the possibilities truly are endless. Oh man, I'm getting hungry just writing about it.
For the purpose of this recipe, I kept the flavors simple. Just plain vanilla pancakes with jam and coconut yogurt on the side. We're not used to having yogurt with our pancakes in the U.S., but it's actually very common in Sweden and England. Peanut butter is also good and even a drizzle of honey.
The base of these pancakes is almond flour. I used to buy it, but now I just make it at home with a handful of raw almonds and a coffee grinder. It ends up being cheaper that way and you don't have to drop $20 on a small bag of flour. (You can make your own almond milk for this recipe, too.) I've also tried roasted peanut flour in place of almond flour and it was fantastic!
I found that these pancakes need a little boost in the sweetness department, so I always add in a sprinkling of Stevia, which is an herb-based sweetener that's zero-calories and doesn't make your blood sugar go up. So I'd suggest you add a little sprinklin' in there if you so desire.
Almond Flour Pancakes
servings: about 6 pancakes
Ingredients
1/2 cup almond flour
2 tablespoons potato starch
1 tablespoon baking powder
1/4 teaspoon vanilla
1 teaspoon honey
1 banana
1/4 cup almond milk
Stevia to taste
dash of salt
coconut yogurt and jam, for serving
Directions
1. Blend up the banana, almond milk, vanilla, honey, stevia and salt until smooth.
2. Add in the almond flour, potato starch, and baking powder, and continue blending until you have a rather thick batter.
3. Cook on medium heat on a piping hot skillet with a thin layer of coconut oil: Spoon batter onto skillet and smooth into pancake shapes. Sprinkle on any desired toppings like bananas, apples or chocolate chips.
4. Wait until bubbles form (about 3 minutes), then flip and cook for another 3 minutes or so.  Serve with coconut yogurt and jam.