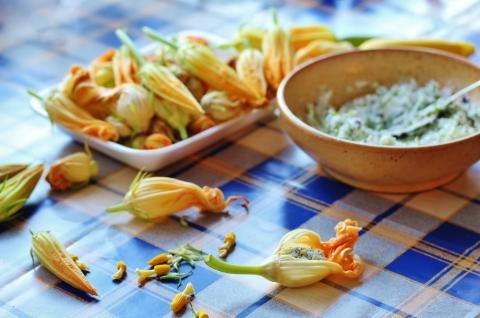 Squash blossoms are flowers of squash that are still growing. They spoil easily and are difficult to find fresh or at all, depending on where you live. One way you can have them locally is by growing your own squash varieties and picking male blossoms yourself. They can come from any summer or winter squash variety and their flavor resembles the squashes they later become when not picked. Commonly found in Mexico, they're also eaten in Italy and Spain.
Health Benefits of Squash Blossoms
Data on the benefits of squash blossoms are still scarce. However, they do have some potassium, vitamin C, and beta carotene. Squash blossoms are used mostly because they are delicate edible flowers and because they are low in calories. Some people even compare squash blossoms to lettuce because you'll need to eat a lot of them in order to reap their benefits.
How to Store Squash Blossoms
If you're lucky enough to find squash blossoms in a local supermarket or health food store you should strive to use squash blossoms within a few hours after purchase. If you can't do this, then break the green parts of the plant off. Shake the flowers a bit to remove any insects that may be lurking in them. You can store them in the refrigerator with a moist paper towel for about a day.
How do squash blossoms taste?
Squash blossoms taste like a milder, slightly sweeter version of squash. They're usually bright yellow-to-orange regardless of the type of squash they come from. Some people feel they taste like popcorn. I can't describe the taste myself, except that I can attest that they complement mushrooms, cheese, tomatoes, and avocados well.
Using Squash Blossoms
Despite the fact that they perish quickly, squash blossoms are a versatile ingredient. You can use them in soups and stir-fries, you can stuff them with cheese, or (my personal favorite) you can stuff squash blossoms in an avocado. When properly cleaned, you can also use squash blossoms in salads, as they're delicious when raw. I've included some recipes below, but if all else fails, you can add your squash blossoms to a quesadilla, or even stuff them with guacamole!
Squash Blossom Recipes
Salad with Raw Squash Blossoms (Vegan)
Ingredients
2 cups iceberg or romaine lettuce (or another lettuce of choice)
1 tomato
1 red onion (you can substitute scallions if you wish)
1/2 an avocado
1/2 cup corn
1/2 cup to 1 cup squash blossoms
For dressing
2 teaspoons olive oil
The juice of 1/4 lemon
Salt and pepper, to taste
Instructions
1.     Wash lettuce and tear or slice into the desired size and add to a bowl.
2.     Slice tomatoes, onions, and avocado. Toss all ingredients except squash blossoms.
3.     To make the dressing, Add olive oil, lemon, and salt and pepper to another bowl. Mix, and then pour onto the salad and toss. Top with squash blossoms.
Healthy Squash Blossom Soup (Vegan)
Ingredients
1 liter vegetable stock
1 cup cooked rice
1 cup mushrooms (any variety will do), sliced
1 cup spinach
1 cup squash blossoms, whole
1/2 cup chopped onion
1 clove of garlic, minced
Optional: Serrano pepper that has been charred, peeled, and deseeded
Salt and pepper, to taste
Instructions
1.     Cook the rice.
2.     In a separate large pot, add the vegetable stock, onion, minced garlic, and some salt and pepper.
3.     Heat the mixture until it begins to boil, and then add the Serrano peppers (if you decided the use them), mushrooms, and spinach.
4.     Cook for about 3 or 4 minutes, then add the squash blossoms. Turn off the heat and leave the squash blossoms in the soup for about 5 minutes. Serve over rice.
Squash-Blossom Stuffed Avocado (Vegan)
Ingredients
1 ripe avocado
1 onion, chopped
1 clove of garlic, minced
1 cup of squash blossoms
1/2 cup chopped cilantro
Salt and pepper, to taste
The juice of 1/4 lemon
1 teaspoon vegetable or coconut oil
Instructions
1.     Add the oil to a pan. Once it's hot enough, add the chopped onion and garlic.
2.     When the onion is translucent, add the squash blossoms and season with salt and pepper to taste. Add the cilantro to the mix.
3.     Slice your avocado in half and remove the seed using a spoon.
4.     Add the mixture into the avocado and add some lemon juice on top. (You can eat the rest of the mixture on its own if you have any leftovers.)