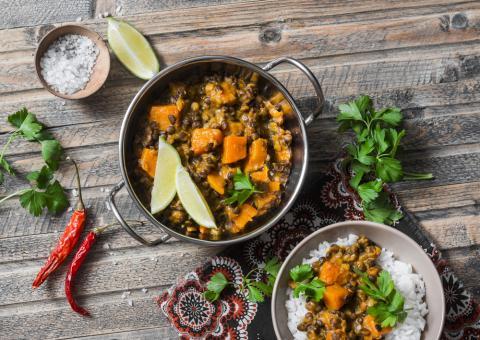 Although the peak winter months have passed, the wafting scent of warm soup from the slow cooker never goes out of style. The slow-cooking "Crock-Pot" (as it is often called for the original brand name) was invented in 1940, gained popularity in the 1970s, and has especially gained favoritism in the past two decades. The slow cooker is the canvas for the creative and clever…the little meal fairy…the billboard that shouts: "Dinner is ready and DELICIOUS!" when you open the front door to a thick flavor preview.
This is an ode to the wonder of the good old-fashioned slow cooker. As the age of the Instant Pot unfolds, don't leave your slow cooker to gather dust. Consider me behind the times, but there is something so simple and reliable about filling the basin with goodness, choosing between two settings—"high" or "low"—and walking away to let the crock do the rest of the work. Simplicity is golden; sometimes electronic controls become finicky and tedious. You can be the judge. (My old Rival-brand Crock-Pot was only $15 at my local thrift store, and certainly looks like it's been cooking meals for hungry mouths for at least a couple decades! In my eyes, that's a testament to durability and dependability.)
The original recipe below serves as a great example of why using a slow cooker is easy, adaptable, and fun. Take a look at the recipe and read on for tips about how to make slow cooking do the work for you with what you've got!
Golden Curry Stew
Toss into the basin of the slow cooker and mix together:
1/2 onion, diced
3 cloves garlic, pressed or diced
1 thumb of fresh ginger, peeled and pressed or diced
1 large sweet potato, chopped in cubes
1 cup red lentils
1 15 oz. can chickpeas
1 15 oz. can diced tomatoes
4 cups water
2 teaspoons curry powder
1/2 teaspoon cumin
1/2 teaspoon turmeric
1/2 teaspoon salt
1 tablespoon olive oil or coconut oil
Cook on low for 4-6 hours, then add:
1 cup fresh, canned, or frozen corn
1 generous handful of fresh cilantro, chopped
Ground pepper to taste
Optional:
1 teaspoon lime juice
Green or red chili spice to taste
Slow cooking is easy.
Are you more apt to prepare a meal like this recipe in the morning, or in the evening? Either chop and measure and mix the night before and leave the removable basin in the fridge, or throw it together immediately before turning on the slow cooker. Use the slow cooker to prep dried beans or grains or gently thaw frozen items. Whatever preparation schedule you choose, a meal will be ready and easy to dish up minutes after walking through the door to return home.
Slow cooking is adaptable.
Don't have some of the ingredients in the recipe? No problem! The beauty of the slow cooker is that whether you use fresh ginger or ground ginger, red lentils or green, fresh corn or frozen, it will still work out to produce a tasty meal. Use half an onion or a whole onion, use a handful of cilantro, or measure it out to a half-cup. Cook times, like ingredients, can certainly be adapted depending on what is available. Away for an 8-hour workday? A vegetarian stew will do just fine if you can forgo al dente crunch for a lip-smacking meal. Baking, as opposed to cooking in a slow cooker, is slightly less adaptable. (Yes, try a slow cooker bread recipe!)
Slow cooking is fun!
Assembling meals—and other dishes—in a slow cooker opens the door to a slew of new adventures in cooking. Have you ever made bread pudding in a slow cooker? Slow cooker apple butter? Melted chocolate or cheese for fondue? Slow cooker recipes range from savory and sweet to plain grains and puffy puddings. Setting the slow cooker to work is fun and freeing, and a great tool for meal planning, allowing you to accomplish so much more in the kitchen and beyond!