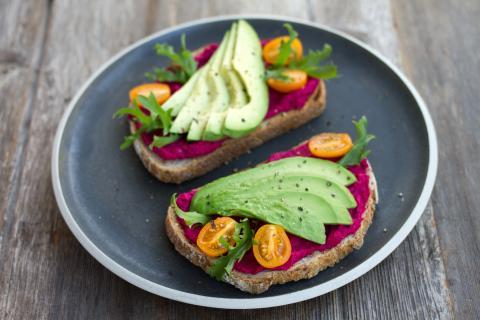 There are lots of good reasons to eat seasonally: when fruits and vegetables are fresh, their nutrition is at its peak, and it's more environmentally sustainable, for starters.  Ayurveda encourages eating seasonally too, and if you're growing your own food, then it just makes sense to eat seasonally.  But it can be difficult to eat the fruits and vegetables that are in season if they're new to you, or if you've eaten them for six weeks in a row.  Luckily, we're getting into spring, which is one of the best times to try new exciting produce that is only available for a short time during this time of year.  Don't miss out on these "limited edition" goodies from nature's larder—let's take a look at a few of April's finest, freshest offerings and see how they're best prepared.
Bok Choy
Bok Choy is an excellent source of iron, making it a great addition to the diet for women especially.  It's also full of antioxidants (those good-for-you things that fight diseases and boost immunity) and vitamins A and C.  Bok choy's calcium, magnesium, and vitamin K content makes it perfect for strengthening bones, and it's also a well-known cancer fighter.  It can even help maintain a healthy heart because it's got folate and vitamin B6!  It's a leafy green veggie, so its health benefits are numerous—this is just scraping the surface!
Avocado
Avocado can get a bad rap for everything from being high in fat to causing the downfall of the millennial savings account, but these little wonder fruits are pretty awe-inspiring.  It's an excellent source of vitamins (like vitamins K and C) and other essential nutrients (like folate and potassium).  And while avocado is slightly high in fact, those are healthy fats—the ones that help your body absorb other vitamins.  They're also good for the heart and can even lower bad cholesterol levels (in a surprisingly short amount of time).  And we're still discovering other health benefits of avocados—like improving eyesight, preventing osteoporosis, improving digestion, and decreasing risk of depression.  So yes, slices of avocado make pretty much every sandwich taste better, but let's look at some other ways to get your avocado fix!
Arugula
Arugula has an interesting, peppery flavor that is sometimes found added sparingly to salads or sandwiches or even lightly atop a cooked pizza.  But if you're willing to consider arugula as more than an afterthought or garnish, you can really reap the benefits of its nutrition!  In addition to being a known detoxifier, arugula is full of vitamin K, which decreases inflammation and also supports bone health.  The vitamin C in it helps you fight off illness and your immune system stay strong, and the antioxidants in it can even help prevent cancer.  It can even improve vision and lower glucose levels, making it a great choice for those with diabetes!
Turnips
Vitamin C, calcium, vitamin K—these are some of the nutrients you'll find in turnips.  Along with being good for your bones and immune system, turnips can fight inflammation and help prevent cancer.  Turnips are a great source of other antioxidants and fiber, too, making them a good choice for weight loss or to improve digestion.  And don't forget to eat the tops!  That's where you'll find B vitamins, calcium, copper, manganese, iron, and a slew of phytonutrients that reduce oxidative stress.