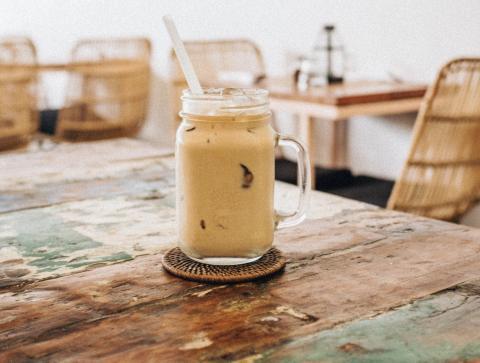 Smooth, silky, and sweet are just three words that come to mind when I think of the Ataulfo or champagne mangoes that give my smoothie its uniquely hydrating base. They're a lovely golden yellow color, weigh approximately 8 to 10 ounces, and possess a buttery flesh with a richly sweetened flavor that's perfect for blending into a smoothie. Best of all, this type of mango is in season from early spring to late summer, so be sure to get it while it's ripe for picking! When it's time to select your champagne mangoes at your local market or grocery store, be sure to choose ones that are softer and slightly wrinkled and feel less firm when squeezed gently as those are the ones that will blend easily and taste the sweetest.
Champagne mangoes taste delicious and are toothsome; however, they are also incredibly nutritious and provide amazing health benefits. Just one cup of diced mangoes can provide up to 80% of the vitamin C recommended dietary allowance (RDA) for women and approximately 66% of the RDA for men. Yet that's not all—this luscious fruit also includes other vital minerals and vitamins to keep your body running strong: vitamin A, vitamin B6, vitamin E, vitamin K, copper, folate, iron, magnesium, potassium, and immune-boosting antioxidants.
I really enjoy drinking this kind of creamy smoothie at any time of the day, but I found it to be incredibly revitalizing to drink in the afternoon when my energy is sometimes lagging because it's hydrating and it always gives me a second wind so to speak. And that's not too surprising given that mangoes are considered to be a brain-boosting food that contains a healthy protein called glutamine acid that has been shown to boost memory and concentration.
Since mangoes also contain good levels of vitamin K, they support your bone health by aiding your absorption of calcium and thereby lessening your risk of a bone fracture. Rich in beta-carotene that is then converted into vitamin A, mangoes also supercharge your immune system and can help you fight free radicals that can damage your body. And when it comes to anti-aging benefits, mangoes help your body produce collagen that slows down your skin's natural aging process by protecting your blood vessels and connective tissues. Therefore, there is more than one reason why this tropical fruit is considered to be one of the world's most popular fruits.
Revitalizing Champagne Mango Smoothie
Ingredients:
2 champagne mangoes, diced
1/4 cup coconut water
1/4 cup Greek yogurt
1/4 cup ice cubes
1-2 tablespoons honey or agave
2 tablespoons of lime juice
Directions:
1. Use a paring knife to carefully cut a half inch above the side of the mangoes oblong pit to cut the flesh apart on either side.
2. Next, score each of those fleshy mango parts in squares while making sure not to cut through the skin and fold the mango pieces inside out to easily remove the fruit from the skin.
3. Finally, place the chunks of mango directly into your blender with the rest of the ingredients, blend until smooth, and enjoy one extremely refreshing smoothie!