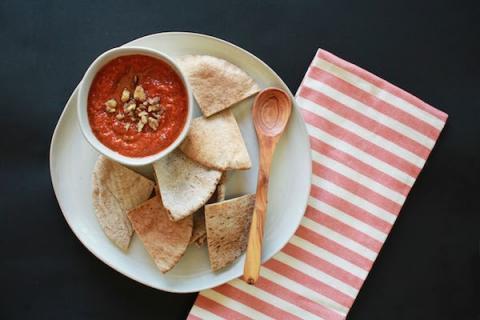 Food can support us in living in harmony with the cycles of nature. In spring, the earth warms and swells with moisture. The foods that are in season—leafy greens, peas, root vegetables—clean and detoxify the body, helping to counteract any excess of moisture. In Ayurveda, bell peppers are suggested in spring and summer because of their astringent, cooling properties. I can think of few better ways to enjoy them than in muhammara, an intensely flavorful roasted red bell pepper and walnut dip that originated in the eastern Mediterranean. It's delicious on a pita or sandwiches, or even as an accompaniment to eggs, fish, or meat, and is bursting with healthy nutrients. Now that warmer weather is upon us, and picnic and outdoor party season is beginning, it's the perfect time for this recipe.
The Amazing Bell Pepper, Deconstructed
The now ubiquitous bell pepper is a piece of living history. Along with tomatoes, potatoes, cacao, and vanilla, peppers are one of the iconic plants of the New World. According to archeologists, they first appeared approximately 13,050 to 18,050 years ago (15,000–20,000 BP) in central Bolivia. Also known by their parent genus name Capsicum, peppers are part of the Solanaceae, or nightshade, family. Although we think of them as vegetables, they're actually fruits. With the exception of a few domesticated cultivars (which includes our beloved bell), peppers contain capsaicinoids, compounds that make them taste hot to people, but not to birds, a brilliant survival fete. Over time peppers traveled far from the Americas, and consequently changed the way people all over the world eat.
There's so much to love about bell peppers. They have distinctive flavor and produce a wonderful crunch in the mouth, all while being impressively nutritious. Because they lack heat, they're often thought of as less interesting than their capsaicinoid-secreting relatives, but this is a misconception. Bell peppers' flavor profile is so unique that it has earned a place among wine descriptors. The red and green bell peppers we most often see in American supermarkets are actually the same plant. Green bell peppers, when left on the vine to ripen, turn red. They're a great example of how sugars develop to create fruitiness, a process that increases their vitamin C content. One cup of chopped red bell pepper provides 190.3 mg of vitamin C, the highest per-serving of this powerful antioxidant.  Although roasting diminishes a bell pepper's nutritional content, if you enjoy them cooked this way, I suggest eating until your heart's content. Roasting creates a wonderful richness of flavor, and you'll still get plenty of nutrients. And anyway, you're more likely to eat more of what you love.
Buying, Storing, & Cooking Bell Peppers
When selecting bell peppers at the grocery store, opt for loose, singly available ones. Shrink wrapping accelerates and conceals spoilage. And if you've never thought of bell peppers as beautiful, try arranging them in a bowl on a countertop. Their sinuous forms rival some early twentieth-century sculpture, and they also taste best when not refrigerated. If you must keep them longer than two days, put them in a paper or loosely closed plastic bag in the refrigerator, but remember—fresher is the best way to eat anything. Which brings me to: yes, peppers can be grown in pots.
Some Recipe Notes
My muhammara is based on an Ottolenghi recipe. I've tried lots of muhammara recipes, and it's hard to improve on this one. The most notable tweak I made is omitting wheat. Wheat is traditionally harvested in the fall for fall/winter eating, and is consequently not advised for spring menus. And although breadcrumbs are standard in muhammara, I don't think you'll miss them. This recipe still produces a flavorful, nicely textured dip. Also, in order to control the amount of sugar and pesticide residue, I use homemade pomegranate molasses. It's very easy to make at home, but you can certainly substitute with the commercially made version if you prefer. For flavor, whole pomegranate seeds work beautifully, but they result in an unfortunate texture that most people will find, at the least, unpleasant. Whatever you do, don't omit the pomegranate, or the Aleppo pepper for that matter.
When I started practicing a seasonal lifestyle, my initial impulse was to file foods into categories: spring, summer, fall, winter. But anyone who grows food knows that the seasons aren't so clearly defined. Long after the autumnal equinox, pepper plants in your area might remain heavy with fruit. Rather than categorizing, take a look and follow their cues. After all, they possess an intelligence that has allowed them to travel all over the place without having the distinct advantage of locomotion. Getting in touch with the intelligence of plants and honoring your connection to nature will never lead you wrong.
Muhammara (Roasted Red Pepper Walnut Spread) 
Ingredients
For the Pomegranate Molasses:
1 cup pomegranate juice
1/8 cup raw sugar
1/4 tablespoon freshly squeezed lemon juice
For the Muhammara: 
1 tablespoon pomegranate molasses
3 red bell peppers
1/2 cup chopped walnuts (I presoak mine.)
2 cloves of garlic, peeled and crushed
1 tablespoon dried Aleppo pepper
1 teaspoon ground cumin
1 teaspoon ground coriander
1 tablespoon fresh lemon juice
2 tablespoons olive oil
3/4 teaspoon sea salt
Directions
Make the pomegranate molasses: Place the pomegranate juice, sugar, and lemon juice in small saucepan over medium heat, and stir until the sugar has dissolved. Cover, reduce the heat to low, and cook for about an hour, until the liquid has reduced to about 1/4 cup. Allow to cool and set into a thick consistency. (Note: after making the muhammara, you'll have some left over which you can use anytime you'd like a jolt of acidity, sweetness, and depth. For example, it's great on tomato salad.
Roast the red peppers: Preheat an oven to 400°F.  Place the whole bell peppers on a lined baking sheet. When the oven is ready, place the sheet on the top rack of the oven and bake for 35 minutes, until charred and blistered. (Alternately, you can roast the bell peppers over an open flame.) Remove from heat, place in a dish, cover tightly, and let sit until cool.
Combine walnuts, garlic, Aleppo pepper, cumin, coriander, lemon juice, olive oil, sea salt, and pomegranate juice in a food processor bowl.
When the peppers are cool enough to handle, remove the skin, stems, and seeds and add them to the food processor. Process until well combined but still chunky. Taste, adjust seasoning, and serve immediately at room temperature.
Photos by Shiraz Leyva