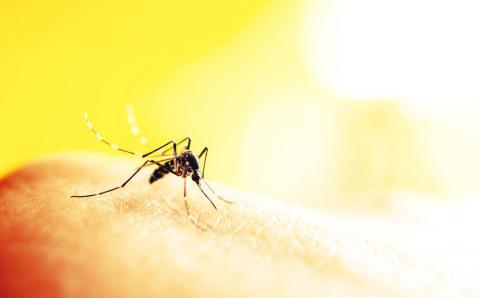 Summer is finally here! Unfortunately, that also means you need to keep the mosquitoes at bay. Here are three completely natural bug repellent DIYs that will save you a buck and keep the bugs away. Bonus points: They smell good to you, not the bugs! 
DIY Reed Diffuser 
This DIY reed diffuser is a super easy natural bug repellent that's perfect for backyard get-togethers or summer nights spent outdoors. You can whip it up in just a few minutes—plus, it does not cost much to make.
Note: Using lavender and eucalyptus essential oils are your best bet against deterring flying pests, and they also smell pleasant to humans.  
Ingredients :
Directions:
In a pretty cup of your choice, add the water and essential oils, making sure to combine them well. Then add the reed sticks (3 to 5 per glass is good).
Set out on a table and flip the reeds every couple of hours to refresh the scent.
Natural Bug Spray Recipe 
Do you shun bug sprays on the market for their strong scents and nasty ingredients? Try making your own using all-natural ingredients. The bug spray will not only smell so much better, but it will also save you money in the long run. It takes less than five minutes to whip up, and it's easy to apply on kids.
Ingredients:
2 tablespoons jojoba oil 
2 tablespoons witch hazel 
1 tablespoon pure vegetable glycerin 
50 to 100 drops essential oils (peppermint, lavender, eucalyptus, clove, oregano, tea tree and thyme are all good choices for repelling bugs) 
Directions: 
Add all the ingredients into a bowl and mix together.
Using a funnel, transfer it into a spray bottle of your choice.
Cap and shake very well before use as the ingredients will naturally separate. Apply every few hours for the best results. 
Insect Repellent Candles 
Another great way to repel bugs is to create insect repellent candles. This is definitely more labor intensive than making a reed diffuser or bug spray, but it is well worth it. The candle will last you a while and you can produce many candles at a time. Plus, they're all natural and save you some money! 
Ingredients + supplies: 
1/2 pound beeswax 
3 drops citronella essential oil 
2 drops cedar essential oil  
3 drops eucalyptus essential oil 
8-ounce glass (or metal) vessel (to hold the candle) 
One 6-inch piece of wire core wick 
1 wick tab/holder 
Candy or candle thermometer (must read up to 200 degrees Fahrenheit)  
Directions:
Clean and dry the container you'll be using to hold your candle in (glass or metal). Mason jars or any upcycled glass jars will do. 
Cover your workspace with newspaper to prevent it from getting messy (beeswax is hard to remove from surfaces once it hardens). 
If you're using a beeswax block, you'll need to break it up thoroughly. You can do this by using a screwdriver on top of a wooden cutting board. Make sure it gets broken in to a bunch of smaller pieces. If you're using beeswax pellets, you can skip this step. 
Next, you're going to want to start priming the wick. To do this, place the broken-up beeswax pieces in a double boiler. Clip a candy (or candle) thermometer to the side of the top bowl. Keep the heat on medium-high and make sure temperature does not surpass 160 degrees Fahrenheit. Use a stirring utensil to move around the pieces of beeswax to help speed the melting process. 
Remove the double boiler from heat when the wax has melted. Place your pre-measured piece of wick into the wax. Leave it to soak for 20 to 30 seconds, then remove it using your stirring utensil. Place it on a piece of parchment paper to dry for 10 minutes. 
Once the wick has dried, thread the wick through the hole of the wick tab/holder. Use pliers to squeeze the threading hole, making sure it closes tightly around the wick. Place the wick/wick tab into your candle holder of choice.  
Warm the wax back up to 160 degrees Fahrenheit, making sure any solid pieces are liquefied. Add in your drops of essential oil, stirring it up. Remove the wax from heat and transfer about 1/4 cup of the wax to a heat-proof spouted container. Leave the rest of the wax in the double boiler. 
Pour approximately 1/2 inch of melted wax into your candle holder containing the wick/wick tab. Now, set it aside for about 20 to 25 minutes, or until it has cooled.  
Warm the remaining wax until it re-liquefies again. Transfer all of the melted wax to the heat proof spouted container. Pour the remaining wax into your candleholder.  
Gently wrap the top of the wick around a wick stick, centering it in the middle of the container. Make sure you don't tug too hard on the wick—you don't want to dislodge it. Let it cool completely. 
Once the candle has cooled completely, remove the wick stick and trim the wick to 1/4 inch before the first use, and after every use. This is important because a lengthy wick could overheat glass and cause it to spontaneously shatter (so if you gift these, make sure to tell that to the person you're gifting it to). They're now ready to be lit!  
If you still wind up getting some bug bites, even after trying out all these DIYs, here are some natural remedies for bug bites.