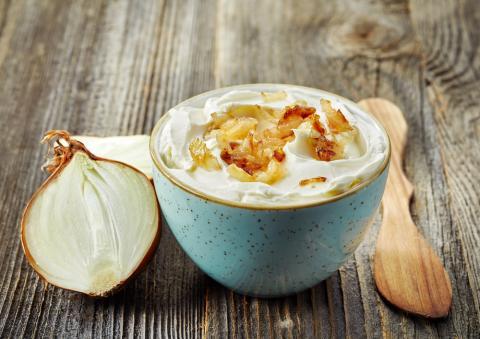 I was crazy for fried onions as a kid. Growing up, my mom used to douse our pierogies with spoonfuls of fried yellow onion. Crispy, sweet, almost burnt and, well…onion-y. My mouth waters just thinking about it. The weird thing was…my mom actually hated onions, except for when they were caramelized or fried. 
I was craving onions lately, specifically the caramelized kind and thought about making a dip! But not just any dip…a vegan dip so my whole family can have it!  I wanted to make a dip that everyone can enjoy, even my mama, so I opted for a sweet and pungent caramelized onion dip that ended up being incredibly delicious. 
The sweet, kind-of-herbal taste of the onions in this dip are out of this world. The roasted garlic adds body and a big hit of flavor. It would be the perfect thing to bring to a party or picnic. 
I decided to substitute coconut yogurt for sour cream, which is often used in onion dip. You can easily just use regular non-fat Greek yogurt, almond yogurt, soy yogurt, coconut cream, coconut yogurt, or cashew yogurt. 
We all know onions add a ton of flavor to whatever they touch, but did you know that onions also have a lot of health benefits? Sounds crazy, but raw onion is actually an anti-bacterial agent (same with raw garlic). Onions have been used as a natural remedy for ailments like fevers and flu. (Here's a little-known tip…eat a little bit of raw onion with every meal when you travel to avoid picking up any foreign stomach bugs.)
One thing that onions have that most vegetables don't is quercetin. Quercetin is an antioxidant that some claim is even better for you than the type of antioxidants in blueberries and pomegranates. Quercetin is a flavonoid that has both anti-inflammatory and antioxidant properties. I'm telling you, this compound is super powerful. Daily supplementation of quercetin has been known to lower blood pressure and reduce oxidative stress in certain individuals. 
Onions also contain vitamin C, vitamin B6, manganese, and Sulphur, which is brilliant for liver detox.  If you have gut-issues or tend to bloat, make onions a mainstay in your diet. When eaten raw, they are known to stop gas formation and fermentation in the gut.
Creamy Caramelized Onion Dip
Ingredients
3 medium sized onions
4 cloves garlic
1/4 cup olive oil
2 Tablespoons water
1 1/2 cups yogurt substitute
2 teaspoons lemon juice
salt and pepper
Directions
Preheat the oven to 400F.
Start off by peeling and slicing the onions. Cut them in half and slice them into very thin slices.
Spread the onions onto a baking pan lined with parchment. Add the peeled garlic cloves, a sprinkling of salt and pepper, the olive oil, and water. Toss until the onions are coated with the oil.
Bake for 50 minutes, flipping halfway through. Once the onions are fully cooked, remove from oven and let cool.
Once cooled, finely chop the onions and toss into a bowl.
Smash the roasted garlic cloves into a paste and add that in too.
Pour in lemon juice and add a liberal amount of salt. Stir in the yogurt/sour cream. Transfer to a small bowl, sprinkle with chives and serve alongside chips or crudités.