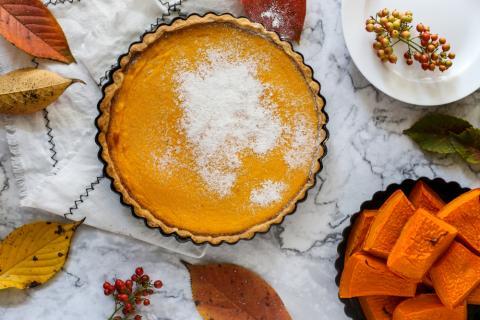 During the autumn season, pumpkin-spiced everything is very trendy. It makes sense, considering pumpkins are seasonal to fall. They're at their peak in September and October: Be sure to get them by pumpkin picking or from your local farmers market. Not sure what to do with all those pumpkins? Here are five delicious pumpkin recipes you can try this fall.  (Or try these for your pup instead!)
Pumpkin Pie 
You can't celebrate fall without making pumpkin pie! Here's a delicious pumpkin pie recipe that's bound to make everyone excited for dessert.  (For a vegan version try this recipe or this recipe.)
Ingredients 
1 store-bought or homemade pie crust 
1 cup light brown sugar 
1 Tablespoon all-purpose flour 
1/2 teaspoon salt 
1 teaspoon ground cinnamon 
1 teaspoon ground ginger 
1/2 teaspoon ground nutmeg 
1/8 teaspoon ground cloves 
3 large eggs, lightly beaten  
1 15-ounce can pumpkin puree (or approximately two cups of pumpkin puree from a small pumpkin) 
1-1/4 cups evaporated milk 
Directions
Preheat the oven to 400 degrees F.
Prepare the pie crust by rolling the dough out to 12 inches in diameter.
Next, carefully transfer the dough to a 9-inch pie plate (make sure it's at least one-and-a-half inches deep), gently fit it into the pie plate, trim any excess dough, and flute the edges.
Line the pie dough with parchment paper or foil, making sure to cover the bottom and fit it snuggly in the corners and up the sides, then fill with pie weights (dried beans or dry rice work well too). 
Bake the pie crust at 400 degrees F for 12 to 15 minutes. Remove from the oven and remove the parchment paper (or foil) and pie weights.
Return the pie crust to the oven and bake for an additional 5 minutes. Remove from the oven and set aside to cool. 
In a large mixing bowl, whisk together the brown sugar, flour, salt, cinnamon, ginger, nutmeg, and cloves until well combined.
In a separate mixing bowl, whisk together the eggs, pumpkin puree, and evaporated milk until well combined.
Pour the wet ingredients into the dry ingredients and mix together until fully combined. 
Pour the pumpkin pie filling into the partially baked pie crust. Return to the oven and bake at 400 degrees F for 45 to 50 minutes. Remove from the oven and transfer to a wire rack for 2 to 3 hours to cool completely. Serve immediately, or save for later.
Pumpkin Soup 
Soup is so delicious and the perfect fall meal—especially pumpkin soup! Whip this delicious recipe up on a nice, cool fall day. 
Ingredients
1 Tablespoon olive oil 
1 onion, chopped
1 garlic clove, crushed
2 teaspoons ground cumin 
2 teaspoons ground coriander 
1 large butternut pumpkin, skin and seeds removed and flesh roughly chopped
1 Tablespoon curry powder 
1 cup vegetable stock 
1/2 cup cream 
Salt and pepper, to taste 
Directions
Heat oil in a large saucepan over medium high heat. Add onion and garlic. Cook for a few minutes, stirring, or until soft and golden.
Add cumin and coriander. Cook, stirring for 1 minute or until aromatic. 
Add pumpkin and stir to coat.
Add stock and curry powder.
Bring to a boil, stirring occasionally. Simmer, partially covered, for 20 minutes or until the pumpkin is soft, stirring occasionally. Set aside to cool slightly.  
Stir in cream and transfer to mixing bowl or blender. Blend until smooth or as desired. Season with salt and pepper. 
Ladle soup among serving bowls. Sprinkle with coriander and serve. 
Pumpkin Spice Latte 
This is the season for pumpkin spice lattes! Save a buck and make your own, without any unhealthy additives. 
Ingredients
2 cups milk (dairy or non-dairy) 
2 Tablespoons pumpkin puree 
1 to 3 Tablespoons  sugar 
1 Tablespoon  vanilla extract 
1/2 teaspoon pumpkin pie spice, plus more for serving (nutmeg, cinnamon, cloves, ginger, allspice) 
1/2 cup strong, hot coffee 
whipped cream, for serving
Directions
Add milk, pumpkin puree, and sugar to a saucepan over medium heat. Heat until hot, but do not boil.
Remove the saucepan from the heat and whisk in the vanilla, pumpkin pie spice, and coffee. 
Divide the mixture between two mugs. Top with whipped cream and a sprinkle of pumpkin pie spice. 
Pumpkin Pie Energy Bites 
These are great, healthy snacks. You can pack them for lunch or even eat them with your breakfast. 
Ingredients
1 cup pure pumpkin puree 
1/2 cup roasted almond butter 
2 teaspoons vanilla crème flavored stevia extract 
2 teaspoons ground cinnamon 
1/4 teaspoon salt 
1 cup quinoa flakes (or quick cooking oats) 
1/2 cup quick cooking oats 
Directions
In a stand mixer bowl fitted with a beater attached, add the pumpkin puree, almond butter, stevia extract, cinnamon and salt. Mix on low speed. 
While mixing, add the quinoa flakes and oats. Scrape down the sides of the bowl and mix one last time. Cover the bowl and refrigerate for 30 minutes. 
Line a cookie sheet with parchment paper. Use a cookie scoop to portion out the dough and place on the prepared cookie sheet. Roll the dough into balls. Serve immediately or cover and refrigerate for later. 
Pumpkin Pie Chia Pudding 
This dessert is so simple and so delicious you'll wish you made it sooner.  And if you're a fan, try Ayurvedic Golden Chia Seed Pudding or Coconut Chia Pudding too.
Ingredients
2 cups canned coconut milk 
1 cup pumpkin puree 
1/4 cup coconut sugar 
1 teaspoon cinnamon 
1/2 teaspoon ginger 
1/2 teaspoon nutmeg 
1/4 teaspoon allspice 
1/2 cup chia seeds 
Directions
In a blender, add all ingredients except chia seeds, pulsing until smooth. Add chia seeds and pulse until just combined. 
Divide the mixture between four 8-ounce mason jars and cover them with the lid. Refrigerate overnight. If desired, top with whipped cream before serving. 
Still have too many pumpkins to handle? Try making these beauty recipes with leftover pumpkin.