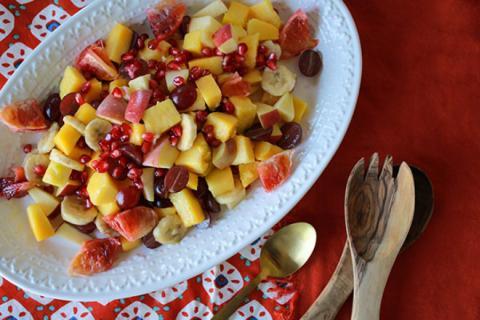 Looking to add something healthy and a little sweet to your fall table? How about a spiced fruit salad? And even if you're thinking not another fruit salad, keep reading, because this is not your average fruit salad. Inspired by the classic fruit chaat common in India and Pakistan, this fruit salad has spicy, tangy South Asian flair. Whether you add it to your breakfast, brunch, dinner, or holiday table, it's sure to wow. And as with all my recipes, it's quick and easy to put together. After all, we understand the elegance in simplicity, right? And let's face it, with the holiday crunch upon us, simplicity holds added appeal.
Fall & Winter Flavors
Beyond its colorful appearance—yes, it will look gorgeous on your table—this spiced fruit salad is all about fall/winter flavors. Seasonal citrus, apple, orange, banana, mango, grapes, and pomegranate seeds combine with cumin, ginger, coriander, chili, and amchoor (more on that below), creating a refreshing sweet and savory contrast. In the west, we don't necessarily think of spices as seasonal outside of a few like cinnamon and nutmeg, but in Ayurveda, spices, like all foods, have seasonal qualities that connect us to the cyclical cycles of nature through the doshas, or our unique body type. The spices in this salad balance the windy, dry, cool, or vata quality characteristic of this time of year, and the cooling quality of the raw fruit. They do this by warming the body and aiding digestion. Even today, many people in India finish their meals with a handful of spices, a custom with Ayurvedic roots.
Seasonal Eating & Ayurveda
It will take about 30 minutes to put this fruit salad together, including maceration time; preparation requires only cutting, measuring, and mixing. All of the ingredients are easily found in American grocery stores if they aren't already in your kitchen, except perhaps amchoor. Amchoor is a powdered green mango powder which has a unique, tangy flavor. You can find it online or at Indian grocery stores, but if you leave it out, your spiced fruit salad will still have tons of flavor. Just remember, as we get into winter, seasonal fruit becomes sweeter. Depending on the fruit you use and your palate, you might want to play with the sweet/savory flavor contrast by adjusting the amount of spices and/or sweetener. Also, if you need to make this salad ahead of time, let it macerate in the refrigerator, covered, for up to an hour. However, be aware that refrigeration will increase its vata qualities, which we seek to balance during this time of year.
Ayurveda and the practice of seasonal eating are about connecting to the body and nature. Many people today sense that something is missing which nature uniquely offers. Eating seasonally can kindle that feeling of belonging and community with the earth which we humans innately long for. For some of us, living seasonally might require big change, but it isn't something that needs to, or should happen, overnight. It can be a gradual, simple, delicious unfolding. Think of it this way: in the fall, we begin to crave warmth: we throw on cozy sweaters, gather in front of fireplaces, and increasingly spend time with friends and family as the season progresses. In the same way, we can adjust what we eat with what's happening in nature. In the process we just might find that our heart has called us home.
Spiced Fall Fruit Salad (Gluten-Free, Vegan, Whole 30 Friendly)
Serves: 3-4
Prep Time: 10 minutes
Macerate Time: 20 minutes
Total Time: 30 minutes
Ingredients
For the dressing:
juice of 1 lemon
1 teaspoon honey (substitute maple syrup if vegan; fresh orange juice if Whole30)
1 teaspoon amchoor (dried green mango powder, optional)
1/2 teaspoon chili powder
1/4 teaspoon ground ginger
1/4 teaspoon ground coriander
1/4 teaspoon Himalayan salt
pinch freshly ground black pepper
2 teaspoons cumin seeds
For the salad:
1 apple, cut into small chunks
1 blood orange, deseeded and cut into small chunks
1 banana, sliced into coins
1 mango, cut into small chunks
20 grapes, cut in half
3 tablespoons pomegranate seeds
Directions
Make the salad dressing: place the lemon juice, honey or maple syrup, ginger, coriander, chili powder, amchoor, salt, and pepper in a small bowl and combine. Set aside.
Roast the cumin seeds gently in a skillet until they release fragrance, being careful not to burn them. Add them to the reserved dressing and set aside.
Place all the fruit except the pomegranate in a bowl. Pour the dressing over the fruit, mix gently, and set aside for about 20 minutes, allowing the flavors to macerate.
Add the pomegranate seeds and serve.
Additional Notes:
If you're pressed for time, assemble the salad and then add the dressing ingredients one by one, mixing as you go. Mix carefully—over handling the fruit will cause it to break down and brown.
Another time saving tip is to skip the maceration time. Maceration allows the flavors to develop, but this salad is good even without it.
This spiced fall fruit salad will hold up, dressed, in the refrigerator for up to an hour, covered.
Photos by Shiraz Leyva