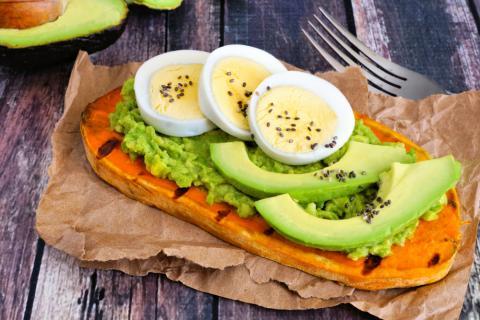 Many people, once they go vegan, can become stuck in a rut of making sweet breakfasts every day, be it through maple syrup-sweetened oatmeal, banana-based green smoothies, or hemp seed granola with almond milk. But savory breakfasts can be satisfying, tasty, and healthy for vegans and omnivores alike (and can be a lifesaver for those who struggle with eating too much sugar.) 
If you don't like savory breakfasts, don't feel alone: most of us are raised to prefer the sweet taste of cereal, waffles, pancakes, oatmeal, and even sugar-sweetened sausages over a veggie-stuffed egg omelette or even a breakfast salad. Sugar is addictive, and it's hard to kick the habit to the curb if you've been consuming it most of your life. We're all for fruit smoothies and acai bowls, but it's worth trying savory breakfasts.  Here are a few reasons why:
No blood sugar spike.
Following 8-16 hours of fasting, depending on when you last eat dinner and first eat breakfast, your body is hungry. Providing it with a drip line of sugar in the form of sugar-sweetened breads or pastries can set you up for hypoglycemia later in the day. That dreaded 3 p.m. slump? The need for a second (or third) cup of coffee? That insatiable hunger despite having just eaten? That's the result. Savory breakfasts can help balance blood sugar better than their sweet counterparts.
More vegetables.
Unless we're making a green smoothie, it's hard to pair French toast with spinach, or waffles with mushrooms and a side salad. Savory breakfasts work well with any variety of vegetables, and they can taste delicious when stuffed in an omelette or quiche, or served alongside scrambled tofu.
More protein.
The typical bowl of cereal contains roughly 11 grams of protein, depending on the type of milk you use; the average breakfast of scrambled eggs with avocado and a side of sauerkraut runs you between 15-18 grams, a significantly higher number with a lot more nutrients. Not into meat or eggs? Don't fear! Even vegans can boost the protein and nutrient density of their breakfast with a few simple swaps.
Better digestion.
Who wants a side of sauerkraut alongside their pancakes? Not me. But alongside my fried eggs? Next to my sautéed tempeh and nettles? Yes, please. Eating fermented foods often pairs better with savory breakfasts, and who doesn't like better digestion all day long because of it?
Better hormonal balance.
Have you ever experienced a sugar low? It generally happens 30 minutes after you've consumed something sugary-sweet, and is referred to as the "crash" that occurs following the sugar "high." Breakfasts with protein and quality fats can help balance our hormones, and help us avoid the insulin spike that can potentially throw off the balance of estrogen to progesterone in women, as this article explains. 
Savory Breakfast Ideas
If you don't know where to start, don't feel alone. Here are some easy, healthy, and (most importantly) delicious savory breakfast ideas to get you started:
Avocado toast with sliced tomatoes, slivered almonds, and a drizzle of olive oil
Tofu scramble with turmeric, spinach, and mushrooms
Sweet potato and red pepper hash with sunny side up eggs
Scrambled eggs with homemade sourdough toast and sauerkraut
Savory oatmeal with sautéed kale
Grits with spinach and a sprinkle of parmesan cheese
Roasted potatoes with rosemary and a side of egg whites
Green juice
Miso soup
Scrambled eggs with smoked wild salmon on homemade bread
Sweet potato toast with hummus and avocado
Breakfast tacos with scrambled eggs or tofu, avocado, tomato salsa, and chopped cilantro on corn tortillas
Egg muffins with vegetables
Chickpea flour omelette
Socca stuffed with hummus, avocado, and fresh vegetables
Bone broth
Don't discount leftovers. The previous day's lunch or dinner can make a fantastic breakfast and likely already includes a protein source and vegetables. Grain bowls that include quinoa or rice, beans or lentils, sweet potatoes, a variety of vegetables, a few chopped nuts, and olive oil or hummus can be incredibly satisfying and also give you the option of serving guests: let each person choose their toppings for a personally balanced meal.
If you're still not inspired, try creating your own breakfast from any number of ingredients by following a general guideline: incorporate 4-6 ounces of protein (eggs, tofu, tempeh, legumes), 1-2 cups of vegetables (spinach, tomatoes, peppers, zucchini), a thumb-sized amount of fat (avocado, ghee, olive oil, almonds), and, optionally, a complex carb (quinoa, sourdough, rice, oats, sweet potato). Remember, breakfast is what you make of it: enjoy it savory!
Do you like savory breakfasts? Which meals above have you tried? Let us know in the comments below.