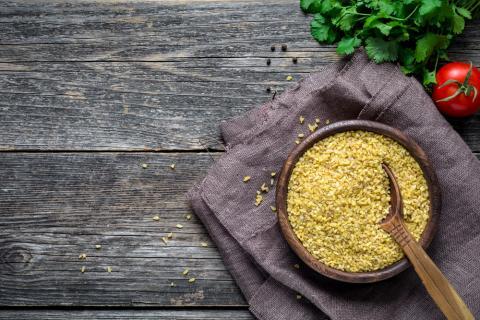 When you're trying to eat healthy, one of the smartest things you can do is meal plan.  Part of meal planning includes choosing dishes that can use the same ingredients so you don't end up wasting food or having just a little bit of one thing left over.
These four recipes do just that: they take a basic ingredient and lay out three easy weeknight meal recipes—plus a lunch—based off that ingredient.  This means fewer items to buy at the grocery store (which means a quicker trip) and also less food wasted.
Since weeknights can be hectic, we've included tips for prepping the meals ahead of time.  Taking a few hours on Sunday to set yourself up for a week of healthy eating can be the key to success!
Meet the Star: Bulgur
The central ingredient in these four recipes is bulgur.  It's a grain—technically, it's parboiled, dried, cracked wheat kernels—that cooks fast (since it's parboiled!) and provides a nutty flavor.  It's perfect for bulking up meals, and you can use it in place of many other grains in a variety of recipes.  While it is a wheat product (and therefore shouldn't be consumed by those with gluten sensitivities), it has more nutritious benefits than your typical wheat product.  For starters, bulgur is high in protein and fiber and low in fat and calories.  Bulgur is full of B-vitamins and fiber, too—so it can keep you full and keep your brain sharp.  It's also an excellent source of magnesium, which can help calm the nervous system.  Bulgur also contains iron and potassium, and helps protect against heart disease.
Bulgur is perhaps most commonly found in the middle Eastern salad called tabbouleh—a healthy grain salad.  (We bulk up the traditional tabbouleh to make a hearty lunch salad in the recipes below.)  It's also used to bulk up soups or stews or to eat as a porridge.  You can also serve it alongside a stir-fry in place of rice.
In addition to bulgur, you'll find these ingredients in more than one of these recipes:
onion
bell pepper
garlic
vegetable broth
beans
Vegan Chili
This recipe is perfect for making ahead and simply reheating it when you're ready to eat.  You can also make a double batch and freeze it for last-minute meals.
Ingredients 
2 Tablespoons olive oil
1 onion, diced
1 bell pepper (any color), diced
1-2 jalapenos, minced (optional)
3-5 garlic cloves, minced
2 Tablespoons chili powder
1 teaspoon dried oregano
1/4 teaspoon cayenne (optional)
6 Tablespoons tomato paste
1/2 cup bulgur
1-28 oz. can finely chopped tomatoes
2 cups vegetable broth
1 teaspoon salt
2-15 oz. cans beans (can be black, kidney, pinto, navy, or combo)
Directions
Heat the olive oil over medium high heat in a large pot or Dutch oven.
Once the oil is shimmering, add the onion, bell pepper, and jalapeno (if using).  Sautee about 5 minutes, until soft but not brown, stirring periodically.
Add garlic and sautee another minute; then add the chili powder, oregano, and cayenne (if using) and cook about 1 minute, until fragrant.
Add tomato paste and cook about 1 minute.
Add bulgur, tomatoes (with juices), broth, and salt.  Stir to combine and increase heat to high.
Bring to a boil then reduce heat to medium and cover.  Simmer for 10 minutes.
Add the beans and simmer uncovered until the bulgur is tender but chewy and the chili is thick (about 10-15 minutes).  Add additional salt and cayenne if needed.
Serve with any desired toppings, such as green onions, cilantro, avocado, cheese, crackers, or sour cream.
Bulgur Mini Quiches
You can precook the bulgur before the week starts and then pull together the quiches when you're ready to eat them.
Ingredients
1/3 cup bulgur
2 Tablespoons olive oil
1 onion, diced
2-4 cloves garlic, minced
4 oz. kale, destemmed and chopped
1 cup milk of choice
4 eggs
1 teaspoon dried thyme
1/2 teaspoon salt
1/2 teaspoon pepper
Directions
Cook the bulgur: boil 2/3 cup water and 1/3 cup bulgur in a small pot.  Cover it, reduce the heat to low, and simmer until the water is absorbed (10-15 minutes).
Preheat the oven to 375F.
Heat olive oil in a skillet over medium-high heat.
Add onion and sautee for 3-5 minutes.
Add garlic and sautee another minute.
Add kale and sautee until wilted (about 3-5 minutes).
Remove the mixture from heat and mix in the cooked bulgur.
Divide the mixture among 8 muffin cups or small ramekins.
In a separate bowl, whisk together milk, eggs, thyme, salt, and pepper.
Pour 1/4 cup of the milk and egg mix into each muffin cup, being careful not to spill.  If desired, top with cheese.
Bake 20-25 minutes, until set.
Bulgur Burgers
You can make the patties in advance and keep them in the fridge for a couple of days—if you want to prep farther ahead or have some on hand for emergencies, freeze them after cooking them.  You'll just need to quickly reheat them when you're ready to eat.
Ingredients
1 Tablespoon olive oil
1/2 cup onion, diced
1/2 cup bulgur
1-1/2 cup canned or cooked beans (pinto or black)
1-1/2 Tablespoons soy sauce
3/4 cup walnuts
2 cloves garlic, chopped
1/2 cup cilantro
1/4 teaspoon cayenne
salt & pepper
Directions
Heat the olive oil in a small saucepan over medium heat.
Add half of the onion (1/4 cup) with 1/4 teaspoon salt and cook until soft, about 5-7 minutes.
Add bulgur and 1 cup of water and cover; then cook on low heat until water is absorbed, about 15-18 minutes.
In a food processor, pulse the bulgur mixture with the beans, soy sauce, walnuts, garlic, cilantro, cayenne, 1/4 teaspoon salt, 1/2 teaspoon pepper, and remaining 1/4 cup onion until finely chopped.
Shape into 4 round patties, about 3-4 inches in diameter, then chill for at least 15 minutes.
To cook them, heat some oil over medium heat until it shimmers; then add patties and cook about 8-10 minutes, flipping once.
Serve open face on buns or the traditional way with all the fixin's!
Bulgur Salad 
This is one of my favorite dishes to make on a Sunday for lunches all week.  You can change up the add-ins, using what you have on hand or incorporating your favorites.  Experiment!  And if you find a serving of this isn't quite enough to keep you fill till dinner (although it is very filling, I promise!), then pair it with a small cup of soup, some yogurt, or a cottage-cheese stuffed avocado half.
Ingredients
1 cup bulgur
2 cups vegetable broth (or water)
3 Tablespoons lemon juice
3 Tablespoons olive oil
1 clove garlic, minced
1 bell pepper (any color), diced
1 small cucumber, peeled, seeded & diced
1/3 cup red onion, diced
1/4 cup chopped fresh mint
1/4 cup chopped fresh parsley
1/2 cup halved cherry tomatoes
1-15 oz. can chickpeas, liquid drained off
salt & pepper, to taste
Directions
In a medium saucepan, heat bulgur and vegetable broth over medium-high heat until boiling.
Reduce heat, cover, and simmer for 15-20 minutes, or until bulgur is tender and most broth is absorbed.  Remove from heat and let cool.
Make the dressing: in a small bowl, combine the lemon juice, olive oil, garlic, and salt and pepper.
Mix the salad: Combine the bulgur with the bell pepper, cucumber, onion, mint, parsley, tomatoes, and chickpeas.  Mix in the dressing.  If desired, garnish with feta cheese and toasted seeds or nuts before serving.
Not a fan of these recipes?  Try these bulgur-friendly recipes instead!