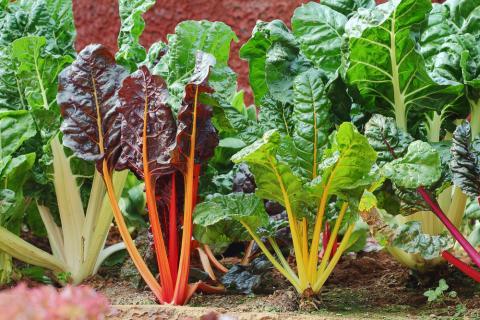 As you plan your garden for this year, consider what type of gardener you are—or want to be. Some folks love spending meditative hours in the garden, pruning and weeding and maintaining plants. Others (like me, this year) may prefer to "sow and go"—to set seeds and watch the magic happen without extensive investment of time and energy.
Many root vegetables are this way in that they stay happiest under the ground until it comes time to feast on them! Of course, some root vegetables will require some thinning, but all those thinned bits are great for salads. (Tomato prunings, however, are somewhat tedious and are an acquired taste…)
Gardening does take patience and attention, regardless of what you grow. Light weeding and some watering may be necessary for the five vegetables below depending on where you sow, your soil, and your rainfall. Enter your zip code to check what hardiness zone you are in and then do the same here to find the last frost date in your zone. The last frost date serves as a marker to decide when to first sow indoors, and when to begin to grow outdoors.
So, if you're also gardening in the northeastern region, incorporate these five veggies into your garden design…and then sow and go! (But do return to harvest your haul!)
1. Dark Leafy Greens (Kale, Swiss Chard)
Not only are these garden additions great for your diet and nutrition, but they just keep on giving all season long! As well as being prolific, as kale plants especially grow larger, they take on a rather decorative, ornamental look.
Kale and Swiss chard may both be started indoors: kale six weeks before last frost, and Swiss chard one to two weeks. Swiss chard may be sown outside after the last frost. Kale is heartier than Swiss chard and is tolerant to frost if sown directly outdoors. It may be sown in the late spring/early summer, and in the late summer/early fall for overwintering.
2. Squash (both summer & winter varieties)
Summer varieties of squash are vast. The most commonly recognized ones are yellow crookneck and zucchini, and—given full sun—these plants will explode! These, as well as winter squash, may be started indoors three to four weeks before the last frost.
Once you transition your summer squash outdoors to well-spaced, mounded hills of warm, 70°F soil, continue to check for fruits regularly. Zucchini grows especially fast, and is tastiest when picked young and often, at about 4-5 inches in length.
Winter squash varieties include varieties such as acorn, butternut, delicata, and pumpkins. Winter squash needs at least three months of frost-free growing, and may be harvested after the first frost, before the first hard frost/freeze.
They are all high in fiber and vitamin A, and store well through the winter in cool (50°F), dry conditions.
3. Herbs (Parsley, Basil)
Herbs are wonderfully easy plants to plan into a garden space because, though small, they pack a punch of flavor to augment any fresh summer dish. (Try this fabulous recipe!) Parsley is heartier than basil, and both may be sown indoors up to two months before the last frost.
Basil arguably takes more maintenance and attention than parsley; the soil should stay regularly moist for basil, while parsley may need a supplemental inch of water per week depending on rainfall. Pinch off the growing tops of the basil plants to encourage growth. Use the mature outside leaves of parsley first to facilitate continued growth, also.
4. Root Vegetables (Carrots, Beets, Radishes)
The beauty of root vegetables is that they are direct-sow, meaning they can be started outdoors in easily workable soil. Additionally, the tops of carrots, beets, and radishes may all also be consumed as you would any green. The younger the greens the better; when I thin carrots and beets, I just throw the whole young plants in salads!
Each of these root vegetables requires very little maintenance aside from an early thinning (plant three seeds per inch, eventually thinning to one plant every inch or two) and light weeding to prevent competition for water.
Radishes reach maturity for harvesting in three to four weeks, while carrots and beets can take three times that time to mature (eight to nine weeks). As a radish lover, I always plant radishes because they are so easy and tasty, and I can plant at least three rounds of radish in the growing season.
5. Cucumbers
Who doesn't love the fresh crunch of a cucumber? Like root vegetables, cucumbers do best if they are sown directly outdoors after the risk of frost. Plant two or three seeds six inches apart in a mound, and arrange some sort of trellis system, if you like. Recycled items work wonderfully for trellises: a ladder, a slotted bed headboard, or a tomato cage or other metal fencing.
Like squash, be sure to give cucumbers ample space to vine and spread, especially if trellising is not an option.
Plan to plant any combination of these vegetables and herbs in your garden, and enjoy the literal fruits of your labor all summer long, and maybe even into winter!