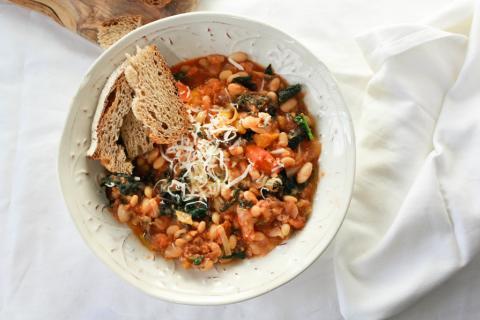 After a long winter, the first signs of spring are glorious and exciting, but the season's shifting weather might have you wondering what to eat. Changes in weather have real effects on our bodies—and our appetites. When the sunny side of spring shows herself, the heavier foods we needed through the winter don't seem appropriate; yet with the sun around only intermittently, it can feel too early for spring's lighter fare. So what to do? Make today's Meatless Monday recipe: ribollita. Ribollita is an earthy, luscious vegetable and white bean stew that's a little winter, a little spring, and very delicious. It's easily made vegan, and it's great for meal planning—letting it sit amalgamates and heightens its flavors.
The Beans Of Spring
In Ayurveda, beans are a spring (and summer) thing. Although they traditionally fall from the vine in winter, they sprout in spring. They're sweet, light, and astringent. In the dry fall/winter they will further dry the body and produce gas, but in the wet spring, their astringency is balancing. Even so, cooking beans with spices like black pepper is always a good idea as it makes them more digestible.
How To Make Ribollita
Ribollita is a traditional Italian soup from Tuscany. The word "ribollita" means "reboiled," which refers to the long-held practice of reheating day old vegetable soup and adding stale bread to thicken it. This is a forgiving, clean-out-the-cupboards recipe that produces a surprisingly hearty vegetarian stew. This is a great way to use up any good bread that has gone a little stale, or dried white beans that have been sitting in your kitchen for a few months. If you have some homemade vegetable or chicken stock on hand, even better, but water will work just fine too. Oh, and if you have any Parmesan rinds in your refrigerator, you can toss those into the pot as well. Extra cabbage, kale, or escarole?  Toss that in too. It will all work out beautifully in the end.
One minute it's cold and rainy, the next it's warm and sunny—such is spring—but one thing is certain: time spent nourishing yourself is always time well spent. So don't forget: choose your ingredients and prepare your food with care and love, and when you sit down to your warm bowl of ribollita, thank yourself, taste deeply, and enjoy.
Ribollita (Tuscan Bean & Vegetable Stew)
(Vegetarian, Vegan Adaptable, Gluten-Free)
Serves: 6
Prep Time: 10 minutes (plus 8-12 hours if using dried beans)
Cook Time: 40 minutes (plus 1 hour for cooking beans)
Total Time: 50 minutes (plus 9-13 hours for beans)
Ingredients
1 cup dried white beans, such as cannellini or Great Northern
1 bay leaf
1 teaspoon +1 teaspoon sea or pink Himalayan salt
1/4 cup extra virgin olive oil
1 onion, chopped
2 carrots, chopped
2 celery stalks, chopped
2 garlic cloves, minced
1 teaspoon freshly ground black pepper
12 ounces canned whole peeled tomatoes
4 cups vegetable stock (or filtered water)
1 fresh rosemary sprig
1 fresh thyme sprig
2 cups coarsely chopped or shredded Savoy cabbage
2 cups coarsely chopped kale or escarole
2 cups day old or stale whole grain bread, broken up into cubes
freshly grated Parmesan (optional)
Directions 
Place the beans in a large bowl with enough cool water so they're submerged by 2-inches. Soak for at least 8 hours, or overnight, up to 12 hours.
Drain the beans and place them in a large pot along with a bay leaf and enough water to cover. Bring to a boil and them immediately lower the heat to a simmer.
Cook, uncovered, for about 45 minutes.
Add 1 teaspoon of salt and cook for about 15 minutes more, until the beans are tender. Drain and set aside.
Heat the olive oil in a large stockpot over medium heat. When the pan is hot, add the onions and cook for about 5 minutes, until translucent.
Add the carrots, celery, garlic, black pepper, and the additional 1 teaspoon of salt. Cook, stirring from time to time, for about 5 minutes, until the vegetables are tender.
Add the tomatoes and their juices, vegetable stock, drained beans, rosemary, and thyme. Raise the heat and bring to a boil, then immediately lower to a gentle simmer.
Cook, stirring from time to time to break up the tomatoes, for 15 minutes.
Add the cabbage, kale, and bread to the pot, raise the heat to medium high and cook for about 5 minutes more, until the vegetables are tender and the bread has dissolved and thickened the soup.
Pour the soup into bowls, topping each portion with drizzles of olive oil and freshly grated Parmesan (if using), and serve.
Additional Cooking Notes
If time is an issue, you can substitute 3 cups of canned white beans for dry beans. In that case, drain the beans and start at step 5.
For a creamy soup, blend half of the beans in a blender before adding them to the soup.
If you don't have vegetable stock on hand, you can also use water.
Want to heat it up?  Add 1/8–1/4 teaspoon dried red pepper flakes to the carrots and celery in step 6.
Ribollita is a great way to use leftover bread, but if all you have is fresh that will work too.
Photos by Shiraz Leyva