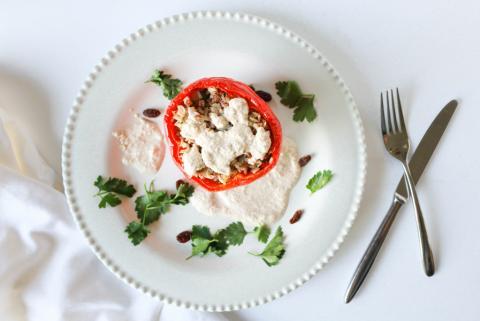 When flowers are in bloom all around and the earth is warming, the last thing you want is to weigh yourself down with heavy food. That's why spring is a great time for these scrumptious vegetarian stuffed bell peppers. What makes them so scrumptious, do you ask?  It's all about taking flavor and texture up a notch by adding fragrant herbs, vegetables, and a creamy walnut sauce to the mix. If you're into a hearty meal that will leave you with energy to smell all the flowers on this Meatless Monday, this recipe is for you.  
Loving Your Body With Plants
Spring is a great time for more plant-based meals. The dry winter months can cause the body to produce excess mucous, which can become problematic in the spring. In order to counteract this heaviness, now is the time to gently reduce fat and protein in your diet.
That said, lightening up doesn't mean we go hungry. This is something I like to remind my friends who tend to skip meals for various reasons, one of which is a jam-packed schedule. Skipping meals haphazardly is exacerbating to the nervous system and can affect your body's metabolism detrimentally. Outside of fasting, staying on a regular eating schedule lets your body feel safe and helps it run optimally.
Nourishment is self-care. Include it on your to do list, and fill your spring plate with light, dry, warm, astringent foods including legumes; grains like corn, millet, and barley; and vegetables like bitter greens and bell peppers. In Ayurveda, bell peppers are considered sweet, astringent, and cooling. Baking them reduces their cooling properties, making this recipe a nice choice for a mild spring day.
Spring is a restorative, generative season. All the new life sprouting up everywhere reminds us of the many opportunities we have for growth. Food is one of the best ways to grow your practice of caring for the one beautiful body you were gifted in this life, and these colorful, fragrant bell peppers will make nurturing your body easy—and delicious.
Vegetarian Stuffed Bell Peppers With Creamy Walnut Sauce
(Gluten-Free)
Serves: 4
Prep Time: 15 minutes
Cook Time: 1 hour 30 minutes
Total Time: 1 hour 45 minutes
Ingredients
Bell peppers:
1 cup brown rice
1/2 an onion, minced
1 cup diced mushrooms
1/2 cup chopped parsley
sea or pink Himalayan salt, to taste
freshly milled black pepper, to taste
4 red or yellow bell peppers
extra virgin olive oil, to taste
Walnut sauce:
2 cups walnuts
2 cups filtered water
4 teaspoons fresh lemon juice
5 Tablespoons extra-virgin olive oil
4 Tablespoons freshly grated Parmesan cheese
2 cloves garlic
sea or pink Himalayan salt, to taste
freshly milled black pepper, to taste
Directions
Cook the rice according to the package instructions. When it's done, immediately add the onion, garlic, mushrooms, parsley, and a little salt and pepper to the top of the pot, cover, and turn off the burner, allowing the vegetables to warm and steam.
Meanwhile, preheat the oven to 375 degrees Fahrenheit. Prepare the bell peppers: remove their caps and using a paring knife, remove the cores and seeds. Rinse the peppers to remove any remaining seeds. Set them aside while you line a roasting pan with parchment paper.
Return to the rice. Using a fork, fluff the rice before you combine it with all the vegetables.
Fill the peppers with the rice mixture and drizzle a little olive oil over the rice.
Place the peppers in the roasting pan with 1/2 inch of water and bake for 45 minutes – 1 hour, until the peppers are tender.
While the peppers are cooking, make the walnut sauce: cover the walnuts in warm filtered water and allow them to soak for 20 minutes. Drain and rinse them, then place in a food processor or powerful blender along with the water, lemon juice, olive oil, Parmesan cheese, garlic, and a generous pinch of salt and pepper. Blend until you have a thick, creamy sauce. Taste and adjust the seasoning.
Remove the peppers from the oven and plate them immediately, topping each with walnut sauce and a little more freshly grated Parmesan, and serve.
Additional Cooking Notes
You can also use basmati or white rice for these vegetarian stuffed bell peppers. Barley, einkorn, or quinoa should also work. 
Photos by Shiraz Leyva