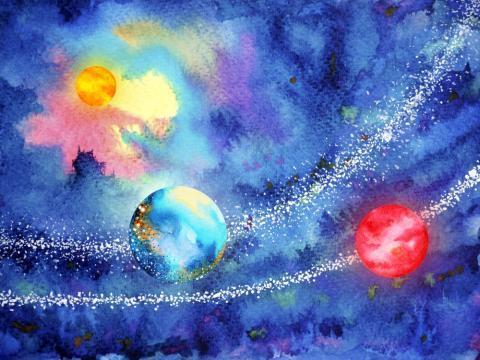 The Karmic Tools Weekly Forecast covers the current planetary transits which affect people in different ways and to various degrees of intensity.  Take notice when it is a Personal planet (Sun / Moon / Mercury / Venus / Mars) interacting with a Social (Jupiter/Saturn) or Collective planet (Uranus / Neptune/Pluto).  And pay extremely close attention when it is a Social planet interacting with a Collective planet because that means something big is brewing that will move large groups of people along their evolutionary paths. Tuning in to the energy and rhythm of the planets can serve as a useful guide as you move along your Individual Path.  It also helps to understand your place within the context of the larger Social & Collective Story. Below, you will find out how these energies tend to manifest, as well as guidance and direction.  NOTE:  There are some days when there are NO CONTACTS (besides the Moon); please note that there are no missing entries, we just list the actual Activations of each week + the day they happen.
Weekly Forecast:  May 12–18, 2019
5/13 ~ Sun  (core essential Self) ~trine~ Pluto (purification & transformation)
This energy makes you want to get things done by any means necessary, and you may tend to come on a little strong—but it's all good. The work you want to do is work that needs to be done and in doing it and facing things head-on, you will gain insights about your Self that fortify your foundation so that your life can evolve to the next level organically. This intense and powerful energy is transformative in nature and will provoke you to think deeply about your life: what you need, desire, and deserve. You may find that some aspects of your life need to be reformed or released—go for it—this energy makes reform and release easier than usual. It's a good time to make an impression or an impact on others, but be sure to keep it on the Highest level possible. Any actions or statements used to manipulate others for selfish gain can/will backfire on you in a big way. This is a positive, uplifting, transformative energy—use it as such to clear the debris and create the life you were born to live.
5/14 ~ Venus (feminine values & priorities) ~sextile~ Mars (masculine desires & actions)
This energy is good for creating the balance between self & other. It is good for trying new things & meeting new people, if/when possible. It creates a good vibe and balanced masculine/feminine energy that allows a nice exchange between self and other. This is a good time to be creative, so be cognizant of any ideas that come to you right now, even if you cannot implement them right away. This is a happy, upbeat energy, so if you can be sociable, by all means, get out and mingle. It's possible to attract someone under this influence as well. The best thing to do with this energy is get involved with new and progressive projects or people. It's all very positive.
5/15 ~ Mercury (expression) ~sextile~ Neptune (dreams)
This is a great energy for imagination, consciousness, and intuition; however, keeping a good filter to distinguish between your own perceptions and what you are picking up from those around you will be crucial to success. Your mind is on a different channel than usual and you may have to rely on other senses, like your feelings or intuitive hunches. You may be very perceptive, picking up on the thoughts & feelings of others, which if/when you are clear (and your filters are working) will yield some surprising revelations about where their consciousness is, at this time (for better or worse) and reflect an aspect of your own you may not have been aware of. Try to avoid work that requires any attention to detail. Allow your creativity to flow freely without censoring what comes through you at this time. You can organize it later. This is the energy to explore, create, and free-flow!
5/16 ~ Mercury (your thinking) ~trine~ Saturn (structure & organization)
This energy is good for deep thinking. You are sharp and your standards are high because you are in "strategy mode." This is a more solitary energy though, so communications with others may be hampered a bit because it is time for you to hold your own, at some new level. It's time to focus on the details that hold the big dream together, all the little things that make the grand vision work. Some respect that attention to detail while others may consider it nit-picky but it is what the energy supports at this time so don't worry if others don't understand right now. By the same token, you may also feel a little overwhelmed by the many "little things" that cannot be denied or delayed and thus a sense of urgency to get it all done. Beware of a tendency toward pessimism, depression, or overwhelm. Try to stay focused on all the blessings that you do have and all that you have accomplished instead of what's still on the list of things to do (in life). This energy is not intended to make you feel bad about all the things left yet to do, but encourage you to begin the necessary steps for manifesting your dreams. This energy just makes you focus on the practical side of manifesting. Clear the debris, and begin to lay a new, clean, solid foundation beneath your goals. Saturn gets you present to the necessary steps and Mercury helps you think clearly.
5/18 ~ Mercury (ideas, thoughts & concepts) ~trine~ Pluto (rebirth & transformation)
This activation makes any deep delving within easier and more fruitful. It encourages you to ask the deeper questions, clarify your deeper feelings, and trust your intuitive gut feelings that are telling you something has to die so some other aspect of your consciousness can live. You will want to explore your inner Self, sort through recently gathered information, and try to understand better what your natural process really is. It is best to be alone for such research. Take a day or a weekend and grab your most powerful books & music and get somewhere beautiful if you can—if not, then your bedroom will do just as well—and dig deep! You are finally ready for the deeper truth, and you will be transformed by what you learn. If you must communicate with others, plan on that being deep as well, so best to talk to a trusted advisor or wise elder. Nothing superficial today. The only warning with this energy is not to become obsessive about one particular idea—and certainly don't try to force any ideas on others. If you feel the deep need to focus on one particular thing, that is fine, but try to keep some perspective or write down all your revelations so you can reflect on them at a later time when you can be more objective and prioritize better.
5/18 ~ Venus (relationships, love & money) ~conjunct~ Uranus (awakening & liberation)
This is an initiation of some radically new values & priorities which have been bubbling within you for a while now. You are supported to shift, without apology. Remember, when you change, everything/one around you naturally changes or goes away. Same-old, same-old will not do at this time and you are supported for thinking outside the box, especially where conscious equal partnership is concerned. We are in a new era, the Aquarian Age, that supports the individual within the context of the whole. We are all learning how to do that on micro-levels, within our own individual relationships, as well as on macro-levels in the world. Use this activation to release resistance and open to the new, shake things up and look at your life from a completely different perspective and see if you don't find renewed value in some places and others that have completely run their course and can easily be released. Finally, pay close attention to any innovative ideas that come up around this time—they could be useful down the line.
This article originally appeared on Karmic Tools!