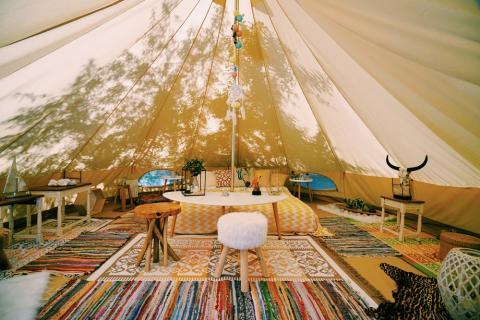 Last summer, I spent my 26th birthday at a glamping resort in Lake Bled, Slovenia. We slept in a tent, sure, but this tent sat on a deck above a glimmering stream with bright red fish; to reach it, we crossed a hanging bridge. The tent was filled with a plush queen bed, hanging lanterns, and a small fridge where we stored fruit that we picked from the gardens and beds decorating the property: shockingly sweet strawberries, plump currants, deep red raspberries, and tart apples. At mealtimes, we wandered our way up wooden platforms to reach Restaurant Vrtnarija, which featured local, seasonal food—much of it grown onsite. After dinner, we sat by the fire, took a dip in the saltwater pool, and explored the trails surrounding the resort.
Glamping might have a trendy name, but it's simply glamorous camping. Beyond what the title suggests, there's more to glamping than just a few days of camping in a luxury tent. Glamping offers a variety of benefits, along with providing a balance between those who love camping and those who can't stand the thought of sleeping on the ground.
What is Glamping?
Glamping was introduced in the U.K., with the word coined on the belief that comfortable camping was a possibility, and a good one at that. Most glamping sites or tents offer a pre-set-up tent, a full mattress, pillows, and blankets, rain protection, privacy, on-site hot showers and full service toilets, plug sockets, and in some cases, even Wi-Fi (though if it were up to us, we'd ditch the Wi-Fi to get a little more back to nature.) 
Glamping is now offered around the world and several online search engines will provide thousands of options, ranging from the economical to the (insanely) expensive. Glamping includes an almost unlimited number of settings and types: do you want to sleep in a tent overlooking a flower-filled prairie? Or does a treehouse in a dense forest sound more appealing? What about a cottage, a converted airstream, or even a pod? Take your time to find a location, setting, and place that is right for you. 
Why Choose Glamping? 
A 2018 report concluded that spending time in green areas—whether forests, parks, or even urban green spaces—results in a decreased risk of several diseases, including type II diabetes, cancer, high blood pressure, and cardiovascular disease. Consider increasing your green time during trips by booking glamping tents close to trails for quick access to hikes, bike rides, or runs. 
If you've ever camped without a sleeping pad, then you know that tiny pebbles are your sleep's worst nightmare, and sore, stiff backs in the morning are status quo. Not so with glamping. Most tents are supplied with a regular mattress, pillows, and comforters or duvets while still allowing for a sound sleep—as you listen to frogs croak or owls hoot. 
Lastly, a recent study published in Frontiers in Psychology demonstrated that a minimum of 20 minutes a day of being in nature can significantly lower stress hormones. Sitting and walking both work to reduce stress and improve wellbeing, making glamping a great option to access nature easily. Glamping provides the creature comforts of home—a bed, a hot shower, and access to bathrooms—while also offering the benefits of nature.
Make Your Own Glamping Tent
Perhaps you compromised by glamping, rather than camping, with your significant other, so why not compromise on the price, too? Take some time to set up your own glamping tent, especially if your own backyard is open as a tent-pitching option to save on money and create a custom getaway.
If you own a large tent capable of fitting a double mattress, simply move your mattress into the backyard for a night. If not, an air mattress can serve the same purpose—just be sure to bring along cozy blankets and pillows. 
Lights can create a surprising amount of ambience. Electric candles can create a festive mood, as can a string of LED lights draped across the front of the tent. Tiki torches, even unlit, offer a cozy entrance. 
If your tent is big enough, consider setting up a small table with foldable chairs; drape them with throws, add a few more electric candles, and maybe even enjoy dinner in the tent—a typical no-go when camping in parks and backcountry areas due to attracting wild animals. 
Happy Glamping!
Have you ever tried glamping? Do you have any tips for creating your own luxury camping experience? Let us know in the comments below!