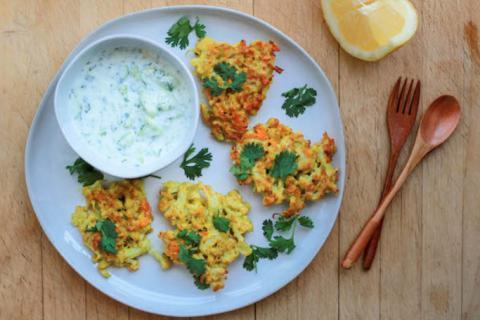 We can all agree on crispy, right? So let's start there. While most of us here at basmati.com love our vegetables, there are others who might beg to differ. And yes, they could be people we love. What to do? Fry. Frying vegetables has this magical way of making them desirable to just about everyone. Think squash tempura, zucchini sticks, and today's case in point: cauliflower fritters. Delicious (of course) and simple (we like to keep it simple), they're great on busy weeknights or leisurely weekends (You can put them in a bun!).
Some Thoughts On Frying
If I say fried food, what do you think of? Your favorite French fries, fried oysters, the way a fast food restaurant smells? While fried food conjures up a vast number of food memories, I hope none of yours involves smoking oil. An oil's smoke point is the temperature to which it can be heated before it oxidizes and releases toxic compounds. We do not want to cook in smoking oil. Smoke point can be a bit misleading however because the number varies depending on a particular oil's quality. For example, a less refined olive oil will have a higher smoke point than a more refined one. It's a bit confusing, I know. Like with all foods, it's good to know your oil and get it from a trusted source. The oil I use most often, particularly for frying, is ghee. The ghee I use has a very high smoke point (485 F), and a beautiful, almost sweet flavor. I recommend ghee in this recipe; a high quality coconut oil is my second choice.
Cauliflower Fritter Burgers
While cauliflower fritters are simple enough to make on a weeknight, they have another enticing side: they make a brilliant burger. When cooked in the way described in this recipe, cauliflower takes on an almost meaty texture. Top fritters with tomato slices and lettuce, wrap in a bun dressed with yogurt sauce, and forget about buying premade imitation meat patties at the grocery store forevermore. Offer cauliflower burgers at your next weekend barbeque, and everyone will be happy.
Cauliflower Fritters With Yogurt Sauce
Serves: makes 12 fritters
Prep Time: 15 minutes
Cook Time: 30 minutes
Total Time: 45 minutes
Ingredients
Fritters:
1/2 of a large cauliflower, cut into small florets
1/2 cup all-purpose flour (or 6 Tablespoons chickpea flour for gluten-free, see note below)
3/4 teaspoon garam masala
1/4 teaspoon ground turmeric
3/4 teaspoon sea or pink Himalayan salt
freshly ground black pepper, to taste
2 eggs, lightly beaten
1/2 cup shredded carrots
1 scallion, minced
1 clove garlic, minced
2 Tablespoons ghee, coconut oil, or olive oil
Yogurt Sauce:
1/2 cup plain yogurt
1 clove of garlic, minced
1 teaspoon fresh lemon juice and grated zest
1 small English cucumber, seeded, grated, and drained (see notes below)
1/4 cup fresh cilantro leaves, coarsely chopped
1/4 teaspoon sea or pink Himalayan salt
Directions
Steam the cauliflower: place a steamer basket in a large pot of water (with a lid). Fill the pan with salted water just below the basket and bring to a boil. Add cauliflower florets, reduce to a simmer, and cook for 15 minutes, until very soft.
Make the yogurt sauce: combine yogurt, garlic, lemon juice and zest, cucumber, and cilantro, and mix. Season with salt to taste.  Place in the refrigerator and proceed with the recipe.
Sift together flour, garam masala, turmeric, salt, and pepper. Add beaten eggs and mix to form a batter.
Mix the cooked hot cauliflower, carrots, scallion, and garlic into the batter, smashing the cauliflower with the back of the spoon to break it up. (If properly cooked and still warm, the cauliflower will break apart easily.)
In a frying pan, heat the oil over medium high heat. Drop heaping tablespoons of the batter into the hot oil and cook for 3-4 minutes on each side, until golden brown. Transfer to a rack to drain.
Plate fritters with a side of yogurt sauce and serve.
Additional Cooking Notes
If you have a fine mesh sieve, drain the cucumber that way. If not, grate the cucumber over a couple of heavy duty paper towels. After grating, gather the paper towels around the cucumber and squeeze to remove moisture.
Store any leftover cucumber sauce in a tightly sealed container in the refrigerator for up to three days.
Chickpea flour can be used in place of all-purpose flour; however, you will have to form the cauliflower fritters with your hands before dropping them into the pan. Be patient and don't worry if some of your cauliflower fritters cooked with chickpea flour fall apart—they'll get better with practice, and they'll all be delicious.
Photos by Shiraz Leyva