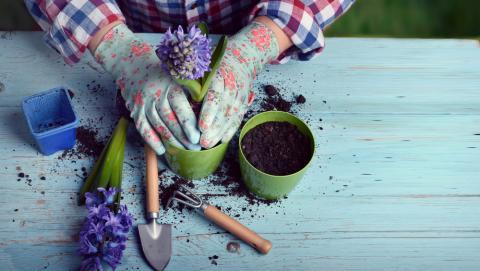 Believe it or not, you can actually bring zero waste into your gardening practices. Sometimes, even gardening can be wasteful, after all. Here are a few ways to make it as sustainable, and waste free, as possible. 
1. Compost Your Yard Waste 
So many people just toss yard waste into a garbage bag. How wasteful is that! You're literally throwing the earth into the garbage. Instead, take your yard waste and put it in your compost pile. There, it will serve a much better purpose and go full circle, turning into nutrient dense compost you can use on your plants. If you have any yard waste like thick tree branches or logs, try your best to break it into smaller pieces before adding it to your compost pile. This will help speed up the decomposition process. 
2. Return Your Plastic Pots 
When you start gardening, you're bound to get your hands on tons of plastic pots at some point. Plastic isn't ideal because it's so hard to recycle and emits toxins. That being said, it can be very hard to avoid while gardening, so instead of getting worked up about it, find a solution. Any empty plastic pots you have should be brought back and returned to your plant nursery so that they can be reused over and over again. This keeps new resources from being wasted just to make a new plastic pot. After you bring a plant home and transfer it into your garden, make sure to return all your plastic pots back to your nursery. 
3. Compost Veggies The Bugs Got
Sometimes, vegetables get eaten before you can even pick them. After all, we're not the only ones who find vegetables (or fruit for that matter) delicious. There are plenty of bugs who love to munch on them too! Sometimes even animals like bunnies or birds get to them. Whatever you find in your garden that's been eaten, don't fret over. Just take it and toss it into your compost pile. Similar to yard waste, there's no need to throw it out. When food goes to a landfill, it doesn't break down the right way and produces methane gas, a greenhouse gas 30 times more potent than carbon dioxide. Fight food waste and climate change by adding the food to your compost pile instead. Also, at the season's end, you can uproot any expired plants for compost before seeding cover crops. 
4. Use Recycled Or Repurposed Materials For Plant Markers 
Get creative with your plant markers by using upcycled items. Popsicle sticks or leftover lumber make great plant markers. Other options include mini terra cotta pots, wine corks, bricks, clothespins, river rocks, or wine bottles. Creativity goes a long way, so definitely work with whatever you have on hand. Using a marker, label your little plant markers and then stick them into the ground where your plants are, so you don't forget what's there.  
5. Feed Leftovers To Your Chickens 
If you have chickens, make sure to feed any food you can't eat from your garden to them. So, let's say you make a cucumber tomato salad using fresh garden veggies. If you can't finish it, share it with them! Also, when you clean out the coop, the chicken manure can go straight into the compost pile. That will turn into fertile compost in no time! 
6. Give Freely 
Most of the time, gardeners can't eat everything their garden produces. For example, just one apple or pear tree can feed multiple mouths once its fruit ripens. If you don't have a big family, or simply have an over abundant harvest, it would be a shame to let all of it go to waste. Even adding it to the compost pile would be a waste, if it's all edible. Instead, give away your abundant food freely. Hand it out to your neighbors, friends, or loved ones. If you're feeling extra generous, maybe even set up a "food is free" table on your lawn so people can come by and take whatever they want. No food should go to waste! 
7. Make Your Own Mulch 
There are so many creative ways to make your own mulch. If you have a pine tree, you can just sweep up any fallen needles and use them as mulch. Don't have a pine tree? You can also ask tree trimming companies that are trimming near electric lines to let you take their chipped material to use as mulch. Yet another resourceful idea is to pick up bagged leaves left on the curb and use that as well—instead of letting it go to waste away at a landfill. Also, don't burn any brush or clippings: Just shred them and use as mulch instead. If you have too much, compost the leftovers. 
8. Use Organic Insecticide  
Believe it or not, insecticide doesn't have to be complicated or toxic. Just use a simple, natural solution of castile soap and water. Just add 1/4 cup of castile soap to one gallon of water, then mix and pour it into a reusable glass spray bottle. You can mist your plants with this solution whenever you see any insects causing mayhem. 
9. Fertilize Your Plants Naturally 
The best way to have a healthy garden, and a plastic-free one, is to use natural fertilizers. There are several to choose from, but I really love these three organic fertilizers: coffee grounds, banana peels, and eggshell tea. They're super amazing at boosting the productivity of your garden, and they're items you would otherwise waste. I've also heard even your own urine can act as a fertilizer (I know, kind of weird). Bea Johnson, arguably the founder of the zero waste movement, swears it helps her potted lemon tree flourish. According to Bea, all you have to do is pee in the pot two to three times a year. That's certainly one way to utilize your urine, isn't it? 
10. Save Your Seeds 
One of the best things you can do for yourself, the environment, and your garden is to save seeds from your highest performing plants. You'll save money in the long run by doing this, but you'll also be continuing the lineage of those plants. By saving seeds, you ensure heirlooms and unique varieties will be around for many years to come. 
How will you reduce waste in your garden?