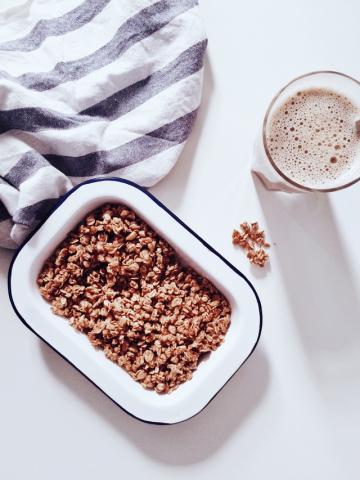 Getting a healthy breakfast in every morning is important. It gives you that energy you need to jumpstart your day. Unfortunately, sometimes people have a tendency to skip eating breakfast because they may not have the time to make it. The good news is that if you don't have the time to make breakfast, you can pre-make it! Here is a simple, delicious and healthy breakfast bar recipe for your hustle-n-bustle mornings.
Ingredients (serves about 10 bars):
1 cup packed and pitted dates
1/4 cup raw honey, maple syrup, or raw agave syrup
1/4 cup creamy or crunchy peanut butter
1 cup raw or roasted unsalted chopped almonds
1 1/2 cups rolled or roasted oats
Directions:
Place dates in a food processor and process until doughy.  
Place the oats, almonds and dates in a large mixing bowl and set aside.
Warm up the honey and peanut butter in a small saucepan over low heat. Stir and pour over the oat mixture in bowl, and then mix.
Once thoroughly mixed, transfer mixture into an 8-by-8-inch baking dish lined with either parchment paper or baking wrap.  
Press the mixture down firmly and evenly into the pan until flat.
Cover with parchment or plastic wrap and place in refrigerator for about 15 minutes.
Remove the bar mixture from the pan and cut into bars.
Eat or save them for a quick breakfast snack. You can store them for about a week, or freeze them to keep them longer.
There you go! Yummy, easy, grab-n-go bars for the morning. May you never go without breakfast in your belly again.