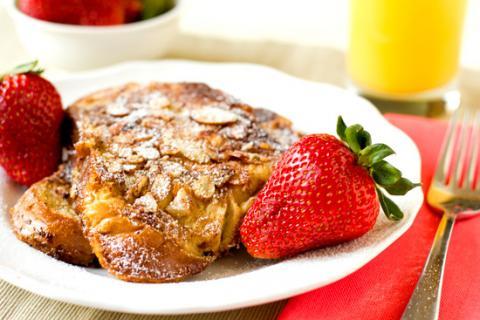 Enjoy this departure from the typically heavy and sugary French Toast! With all natural sweeteners like vanilla extract and bananas, you can satisfy your need for weekend brunch and still feel good about it later. The silken tofu in this recipe helps to add thickness to the batter and a little bit of protein to keep you going. For a delicious treat, top it off with some fresh berries and whipped coconut cream!
Ingredients____________________________Supplies___
8 oz. silken tofu                                                      Small Baking pan (at least half an inch deep)
2 bananas
½ cup non-dairy milk
1 teaspoon pure vanilla extract
½ teaspoon cinnamon
5-6 slices of whole grain bread
1 tablespoon coconut oil
Directions
-Add the silken tofu, bananas, non-dairy milk, vanilla, and cinnamon into a blender.
-Blend on medium setting until mixture is smooth. Pour mixture into the baking pan.
-Put a skillet over medium heat. While that is warming up, add a small amount of coconut oil to grease the pan.
-Using a fork (or your fingers) dip the bread slices into the mixture, covering both sides completely before adding to the skillet.
-Cook the bread for about 45 seconds on each side, or until golden brown.
-Serve warm with some maple syrup, agave, or fruit of your choice.
Photo Credit: "Cinnamon-Almond French Toast" by Brown Eyed Baker is licensed under  CC BY 2.0