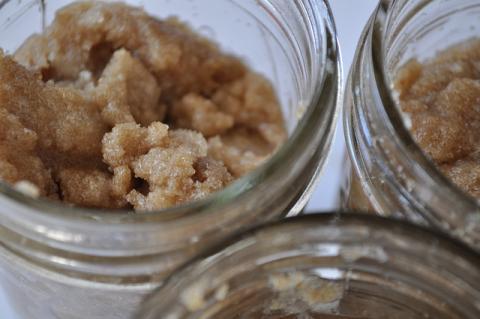 Nature will always be the best place to get everything; it's an abundant source of all that is good for us. Why don't we recall that this also includes items that beautify? Instead of chancing it with ingredients that sound like they emanated from a mad science experiment, you can make your own cosmetics at home, with natural ingredients you already know and love. Here are some great options to get you started on your way to a truly healthy glow:
Sugar Scrub
Exfoliating the skin removes old skin cells and reveals luminous, soft skin. An easy way to do this is with an at-home sugar scrub. You will need:
1 cup sugar
½ cup coconut oil or olive oil
Optional: essential oil of your choice (lavender, peppermint, lemon, etc.), approximately 10 drops
Mix together and it's ready to use on any parts of your body that need exfoliating!
Blush
A touch of rosiness will make you look healthier, younger and more feminine. Make this easy blush with the following:
½ teaspoon arrowroot or cornstarch powder
½ teaspoon cocoa powder
½ teaspoon hibiscus or beetroot powder
Airtight container for storage
Mix according to the desired color you want, and apply to cheekbones for a flash of color!
Makeup Remover
If you want to have great skin, you must avoid clogged pores and makeup settling in facial lines. This means always removing your makeup. These handy wipes make it a breeze, no matter how tired you are at the end of the day. You can make them with:
2 cups water
3 tablespoons coconut oil
1 tablespoon baby wash
Optional: ¼ teaspoon tea tree oil
Makeup remover pads or a paper towel roll cut in half
Jar
Mix the ingredients. Add the roll or pads to the jar and fill with liquid. Press down to make sure the liquid is absorbed. Fill liquid to the top of the jar to cover the pads and you're done!
You can also fill the jar and use reusable rags to dip into the liquid, washing after use, to be even more eco friendly!
Lip Stain
A flushed tone on the lip is so romantic and sweet. Make a literally sweet lip stain with the following ingredients:
5 raspberries
5 blackberries
1 teaspoon olive oil
Container
Mix together and drain through a colander to remove pieces of fruit. Refrigerate. Should be good for one week. Apply to lips for a stain of berry color.
Moisturizer
Your body's largest organ (your skin) protects you--so protect it. Keep moisturized the natural way with this lush body lotion:
½ cup coconut oil
1 teaspoon liquid vitamin E
5-12 drops lavender essential oil
Container
Mix together and presto -- a perfect moisturizer.  Apply wherever skin is dry.
Photo Credit: "Aug:17" by Kim Love is licensed under CC BY 2.0