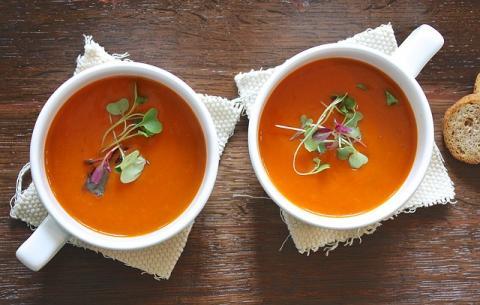 As the cold front begins to roll in, comforting food makes its way to the table. And nothing says comfort food like tomato soup. This is my favorite soup, and quite possibly my favorite recipe. While most creamy tomato soups rely heavily on dairy, I find that you can achieve the same effect based on how you prepare the soup, not just the ingredients you use.
The key here is adding less broth. Don't get me wrong -- I love broth-based soups, but in this recipe you really want the tomatoes to provide the base texture. Roasted tomatoes, onions, and garlic combine in a rich, creamy flavor that will have you second-guessing its vegan ingredients.
Fall Recipe: Roasted Tomato Soup (Vegan)
Servings: 2 large bowls
Ingredients:
6-8 Roma tomatoes
1 yellow onion
3 cloves garlic
½ cup vegetable stock
1 tbsp. paprika
½ tsp. cayenne
1 tsp. turmeric
Salt
Cracked pepper
Dash of olive oil
Directions:
Preheat the oven to 375 degrees Fahrenheit. Slice tomatoes in half and sprinkle with salt. Slice the onion in half, then into quarter chunks. Place tomato and onion on a baking sheet and brush with olive oil.
Rub the garlic cloves with olive oil, then wrap in foil.
Slice the top off the garlic bulb and discard. Rub the bulb with olive oil, then wrap in foil.
Roast tomatoes, onion, and garlic for 30 minutes, flipping halfway. Be sure to keep an eye on the garlic bulb, as you do not want it to burn.
Next, squeeze the garlic cloves out of their skin. In a food processor or blender, blend tomato, onion, and garlic.
In a saucepan on low heat, add puree along with vegetable stock and spices. Add salt and cracked pepper to taste. Simmer for 15 minutes, and then serve.